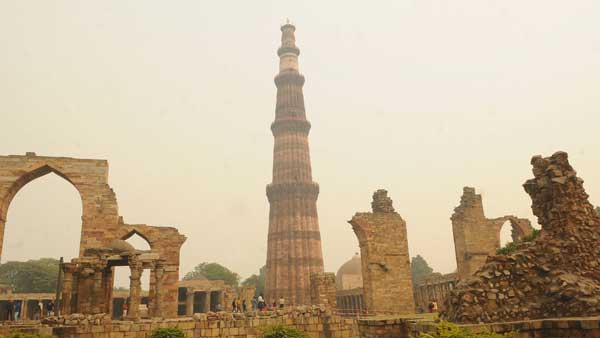 Qutub Minar a protected monument, cannot be changed, ASI tells court
The Archaeological Survey of India (ASI) is not in favour of reviving the temple at Qutub Minar in Delhi, a demand made by the Vishwa Hindu Parishad (VHP) which claimed that the structure was a 'Vishnu Stambh' before some of its portions was reconstructed by a Muslim ruler and renamed as Quwwat-ul-Islam.
The ASI told the Saket Court in Delhi that the Qutub Minar has been a protected monument since 1914 and its structure cannot be changed now. "The revival of worship cannot be allowed at a monument where such a practice was not prevalent at the time of it being granted the "protected" status," the ASI told the court.
The ASI said the destruction of old temples to build the Qutub Minar complex is a matter of historical fact. "The Qutub Minar complex is a living monument that has been protected since 1914. No one has the right to worship on the complex," the ASI told the court.
Also read: Bengal will lose ₹642 crore revenue due to Centre's cut in fuel prices: Mamata
"We cannot change the character of the protected area as there was no practice of worship at the time the monument was placed under protection. We cannot allow permission to worship now," ASI added in its response submitted to the Saket court.
Earlier, ASI's ex-regional director Dharamveer Sharma had said that the Qutub Minar was constructed by Raja Vikramaditya and not by Qutb al-Din Aibak, to study the direction of the sun. In response, the Ministry of Culture had asked the ASI to submit its excavation report.
Also read: Gyanvapi case has opened a Pandora's box of mandir-masjid tussles; here's a list
VHP national spokesperson Vinod Bansal claimed that the 73-metre-high structure was built on a temple of lord Vishnu constructed during the times of a Hindu ruler. "When the Muslim ruler came, some of its portions were reconstructed with the materials obtained after demolishing 27 Hindu-Jain temples, and renamed as Quwwat-ul-Islam (Might of Islam)," Bansal claimed, speaking to PTI earlier.