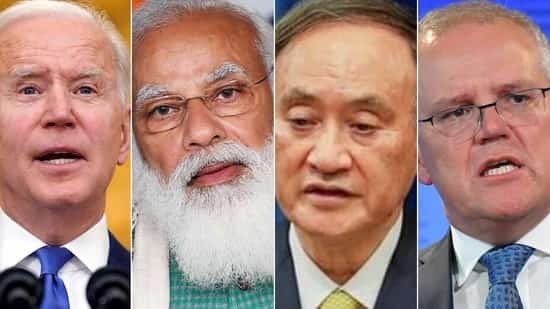 The first summit of the leaders of Quad — a grouping of US, Japan, Australia and India — on Friday (March 13) voiced its commitment to "free, open, rules-based order, rooted in international law to advance security and prosperity and counter threats to both in the Indo-Pacific and beyond".
The Quadrilateral grouping is seen to be a direct challenge to China's aggressive activities in the Indo-Pacific region — particularly in the South China Sea – where Beijing has proactively asserted its "expansionist" influence.
China responded angrily, with its mouthpiece, The Global Times, saying India has become a "negative asset" for BRICS (a trade block of Brazil, Russia, India, China and South Africa) and SCO (the Shanghai Cooperation Organization). China in February had said it was backing India to host this year's BRICS summit. "It seems India has failed to understand China's goodwill. India takes all support of China for granted. It is in fact carrying out a kind of strategic blackmail against China," said Global Times in its commentary.
Quad leaders — Prime Minister Narendra Modi, US President Joe Biden, Japan PM Yoshihide Suga and Australian PM Scott Morrison – met through virtual mode and agreed that they would meet for an "in-person" summit by the year-end.
Also read: India to produce COVID vaccines for Indo-Pacific under Quad initiative
"We are renewing our commitment to ensure that our region is governed by international law, committed to upholding universal values, and free from coercion," Biden said while stressing that this was the first multilateral summit that he has had the opportunity to host as President. "The Quad is going to be a vital arena for cooperation in the Indo-Pacific. And I look forward to working closely with — with all of you in the coming years," said the newly elected US President.
Prime Minister Modi said: "We are united by our democratic values and our commitment to a free, open, and inclusive Indo-Pacific. Our agenda today — covering areas like vaccines, climate change, and emerging technologies — make the Quad a force for global good."
"I see this positive vision as an extension of India's ancient philosophy of Vasudhaiva Kutumbakam, which regards the world as one family. We will work together, closer than ever before, for advancing our shared values and promoting a secure, stable, and prosperous Indo-Pacific".
Also read: China's ambitions and posturing in Indo-Pacific region worry Quad nations
Australian PM Morrison said he hoped the partnership would be the enabler of peace, stability, and prosperity. He spoke of the ASEAN (Association of Southeast Asian Nations) vision for an open and resilient Indo-Pacific. On Covid, Morrison said: "As we emerge from this global pandemic and the global recession, let us together create a different future. It is the Indo-Pacific that will now shape the destiny of our world in the 21st century," he said.
Japan PM Yoshihide Suga said: "With the four countries working together, I wish to firmly advance our cooperation to realize a free and open Indo-Pacific and to make visible and tangible contribution to the peace, stability, and prosperity of the region, including overcoming COVID-19."
The Quad has formed three working groups on vaccine, critical and emerging technologies and climate change. Modi took up briefly Myanmar's power struggle where the military junta has again taken over the administrative and political control of the country. He stressed close ties with the Myanmar, saying New Delhi was working "constructively" to bring it back to democracy.