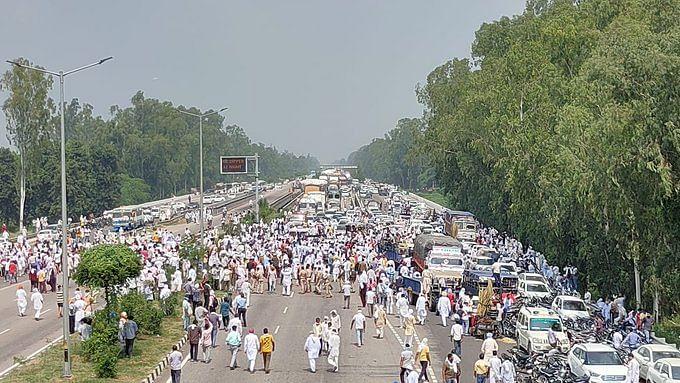 Farmers in Punjab, Haryana and certain parts of Uttar Pradesh are up in arms against what they call is the government's "anti-farmer" move to corporatise agriculture and leave them at the mercy of market forces.
They are protesting against three ordinances introduced by the government for agriculture reforms, saying they will result in the involvement of big corporate houses in marketing and are an attempt by the government to abolish the minimum support price (MSP).
On Thursday, farmers in Punjab took out a tractor rally in protest, while many in Haryana gathered at the Pipli wholesale market and clashed with the police to protest against the Farmers' Produce Trade and Commerce (Promotion and Facilitation) Ordinance, the Essential Commodities (Amendment) Ordinance, and the Farmers (Empowerment and Protection) Agreement on Price Assurance and Farm Services Ordinance, 2020.
Advertisement
The protests are likely to intensify and spread across the country when the Monsoon session of Parliament starts on September 14 with farmers organisations demanding a legislation to ensure that the MSP is not done away with.
The farmers' main target is the Farmers' Produce Trade and Commerce ordinance, that permits transactions to take place outside the Agricultural Produce Market Committees (APMC) of the state governments. Buying and selling of produce outside these markets will not be subject to the taxes and fees charged at the APMCs.
Related news: 43,000 farmers, daily wagers committed suicide in 2019: NCRB
This, the farmers allege, is an attempt to undermine the role of the APMCs and an indication of the government's intention to end MSPs. They feel the government wants to implement the 2015 Shanta Kumar committee recommendations that said states should be made to procure food grain from farmers instead of the Centre through the Food Corporation of India (FCI).
The Bharatiya Kisan Union (BKU), which has been leading the protests in Haryana, said the ordinances will leave the farmers at the mercy of corporates and market forces.
Farmers in some parts of the country, though, have welcomed the ordinances saying they will usher in much-needed reforms. In Maharashtra, farmer leader Raju Shetti said the reforms will ensure farmers' financial freedom.