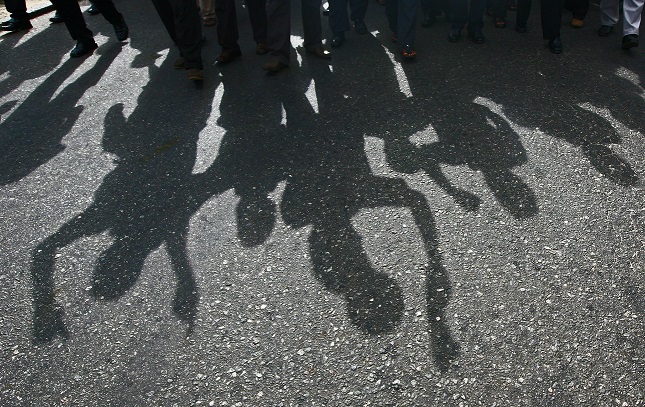 Protests in Bihar against Agnipath; job aspirants block highway, rail tracks
Unhappy over the government's Agnipath scheme to induct soldiers on short-term contract into the armed forces, aspirants protested in Bihar on Wednesday, blocking a highway in Muzaffarpur and railway tracks in Buxar, NDTV reported.
The protestors termed the scheme detrimental to their long-term prospects because only up to 25 per cent of the recruits or 'Agniveers' under the scheme may get regular commission.
"Bharti do ya arthi do (Give us jobs or have us killed)" was among the slogans as the protesting young men burnt tyres and hoardings on National Highway 28, which links Lucknow in Uttar Pradesh to Barauni in Bihar.
Also read: Centre launches ambitious Agnipath scheme for armed forces; find out what it entails
The protesters said they were waiting for regular recruitment rallies to resume after two years but were given this scheme instead. Regular recruitment rallies were stopped around two years ago following the coronavirus pandemic and have not resumed. The non-resumption of recruitment rallies had also led to protests at several places in the country over the past few months.
Relaxation in age sought
"The army should relax the age bar so that those who have spent the last two years waiting should get a fair chance," said one of the protesters in Muzaffarpur. Age requirement for recruits under the Agnipath scheme is 17.5 to 21 years.
In Buxar, one of the protesters blocking the railway track told reporters, "Even MPs and MLAs get five-year terms; what will we do with just four years?" The tracks were cleared after police pacified the demonstrators; at least one train was held up for an hour.
The government had on Tuesday announced that about 45,000 soldiers will be recruited into the army, navy and air force largely on a short-term contract. This will enable a youthful profile of the armed forces and reduce the ballooning salary and pension bills. Both men and women are eligible, according to the Defence Minister Rajnath Singh.
'Ploy to fool young people'
Speaking with NDTV hours after the announcement on Tuesday, aspirants in Patna had criticised several aspects of the scheme; some even called it "a ploy to fool young people". They said they would now prepare for other jobs.
Those aspirants who praised the idea of a younger army also raised a demand for "20-30 per cent reservation" for Agniveers in other jobs once they are let go after four years.
Also read: How delay in armed forces recruitment has put lives of youths on hold
There are also reports that the armed forces will try to give a Class 12 certificate to a Class 10 student who joins as an Agniveer. So far, there is little clarity on educational qualification certificates, though the University Grants Commission has also said it will try to accommodate the scheme into its degree system.