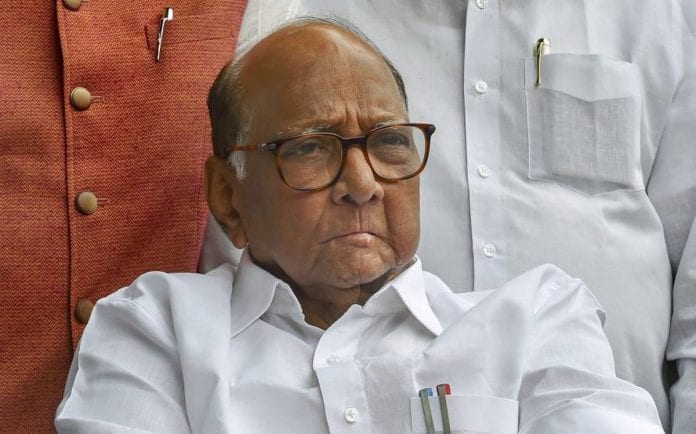 As discussions among Opposition parties gain momentum over the July 18 Presidential polls, is NCP chief Sharad Pawar emerging as a likely challenger in the race for electing India's 15th President?
On Sunday (June 12), Aam Aadmi Party MP Sanjay Singh met the octogenarian Maratha leader and reportedly assured him of the AAP's support should he agree to contest as a consensus candidate of the Opposition parties against whomever the BJP and its allies decide to field.
A source close to the NCP chief confirmed to The Federal that Singh wasn't the first leader from an Opposition party to reach out to Pawar. The first offer to the wily Pawar to enter the poll fray as a consensus candidate of the Opposition had, in fact, come from interim Congress president Sonia Gandhi over a fortnight ago.
Gandhi, said sources, had then followed up on the discussion by deputing Mallikarjun Kharge, the Leader of Opposition in Rajya Sabha, to call on Pawar. Kharge has also been appointed by Gandhi to speak with leaders of all like-minded Opposition parties and gather their views on the candidate they are most likely to back.
West Bengal Chief Minister and Trinamool Congress chief Mamata Banerjee has also conveyed to Pawar that she believes he would be "the best choice" for the Opposition's candidate as "all parties will happily extend unconditional support" to him.
Banerjee has also requested for a meeting with various Opposition party leaders and non-BJP chief ministers in Delhi on June 15 to discuss a common Presidential candidate. There is no confirmation yet on how many of these leaders will actually honour her invitation.
Sources said the Trinamool and AAP are also of the view that if Pawar declines the offer — he has, so far, remained non-committal — then the Opposition parties must reach out to former Union minister and bitter Modi critic, Yashwant Sinha.
A former BJP leader from the AB Vajpayee-LK Advani era, 84-year-old Sinha is presently national vice president of the Trinamool Congress, which he had joined in March last year.
BJP's choice
The BJP, meanwhile, has tasked its national president JP Nadda and Union defence minister Rajnath Singh to steer discussions with allies as well as Opposition parties for picking a candidate for the Presidential election.
BJP sources told The Federal it is unlikely that incumbent President Ramnath Kovind will be fielded for a second term in office . A possible elevation for Vice President Venkaiah Naidu, whose term in office expires on August 11, has not been discussed, at least as of now, within the party.
There had been some speculation that the BJP's top leadership may pick a Muslim candidate after the Modi government was scorched by criticism from several Gulf nations over the blasphemous remarks made against Prophet Muhammad by two BJP spokespersons recently.
Also read: Caste census: Nitish's dalliance with Tejashwi has BJP on the backfoot
Names of Kerala governor Arif Mohammed Khan and Union minister Mukhtar Abbas Naqvi, who is due to retire from Parliament's Upper House on July 7 and wasn't among the BJP's candidates for the recently concluded Rajya Sabha polls, had begun to do the rounds as potential presidential candidates last week.
A senior BJP leader, however, told The Federal that it is "highly unlikely" that the party will back a Muslim candidate for President though "the possibility of a Muslim vice presidential candidate may still be explored".
The leader said "it would make more political sense to have either a woman candidate or someone from the Dalit, adivasi or backward classes in the Presidential poll" but added that "the final call" will be Modi's and that "there could be a surprise choice, someone least expected".
What is fairly certain, however, is the inevitable victory of a candidate fielded by the BJP and its allies as the ruling NDA coalition already holds a 48.9 percent share in the Electoral College that will vote for the next President of India.
The BJP is also confident that the miniscule deficit of around 20,000 electoral points that the NDA has in the Electoral College — comprising 4,809 members; 776 MPs and 4,033 MLAs with total value of votes pegged at 10, 86,431 points — to cross the 50 percent mark will be covered with the support from regional outfits such as YS Jagan Mohan Reddy's YSR Congress and Naveen Patnaik's Biju Janata Dal. Both YSRCP and BJD have often come to the saffron party's aid in the past.
Nitish's swings
A potential setback to these calculations within the BJP could, however, come from Bihar chief minister and JD(U) boss Nitish Kumar. Kumar has a past record of ditching allies in critical moments to suit his own politics.
During the 2012 Presidential polls, Kumar decided that the JD(U) will support UPA candidate Pranab Mukherjee against PA Sangma, candidate of the NDA, which was then in Opposition at the Centre and of which the JD(U) was a part.
In 2017, while Kumar's JD (U) was part of the RJD-Congress mahagathbandhan in Bihar, he had supported NDA candidate and then Bihar Governor Ramnath Kovind though the UPA had fielded his fellow Bihari and former Lok Sabha Speaker Meira Kumar.
Also read: Presidential poll on July 18; here's how India elects Ram Nath Kovind's successor
The current Presidential polls are once again being held at a time when the Bihar chief minister has been routinely striking discordant notes against the BJP, keeping rumour mills busy with speculation of his imminent exit from the NDA once again. If Kumar indeed ditches the BJP in the Presidential polls, the saffron party will stare at a greater deficit of votes for its candidate in the Electoral College.
Though technically the Opposition bloc collectively holds 51.1 percent of the votes in the Electoral College, the BJP is banking on the hope that these parties will not vote for a common candidate given the deep trust deficit among them, particularly towards the Congress.
Sharad Pawar a safe bet
Amid its perpetually waning electoral heft and attempts by outfits like the Trinamool and K Chandrasekhar Rao's Telangana Rashtra Samithi (TRS) to strip it off its centrality to the Opposition bloc, the Congress party already has its task cut out in the Presidential poll.
Though the Congress is determined to not let the BJP's nominee win unopposed, its interim president is also aware that she and her party can no longer dictate terms of engagement to other Opposition outfits such as Akhilesh Yadav's Samajwadi Party, Mayawati's Bahujan Samaj Party, the Trinamool, AAP and TRS or even allies such as MK Stalin's DMK or Hemant Soren's JMM.
A clear sign of this realisation of fading influence, say Congress sources, was Gandhi's brief to Kharge when she assigned him the task of reaching out to leaders of all like-minded parties for gathering views on who they are most likely to back against the BJP-led NDA's candidate.
It is learnt that Gandhi, who was admitted to Delhi's Sir Ganga Ram Hospital on June 12 for Covid-related treatment, had reportedly told Kharge that the Congress will back "any candidate who is acceptable to a majority of like-minded parties" and that such a candidate "does not necessarily have to be from the Congress party". The Congress chief, sources say, had also sounded out Kharge about her preliminary discussion with Pawar and instructed him to carry it forward in earnest.
At the face of it, Pawar seems to be the safest bet for the Opposition. A three-term former chief minister of Maharashtra and multiple term Union minister, Pawar has over 50 years of an illustrious political career behind him and, despite his indifferent health, is still considered to be among India's wiliest political minds.
He enjoys bipartisan support, is held in high personal regard by almost all leaders of different political parties — in government or Opposition. Even Modi had once described Pawar as his "guru" and had publicly acknowledged that the Maratha strongman had "handheld me through my early days in politics in Gujarat".
It is also common knowledge in the corridors of power that the country's highest constitutional office is something that Pawar covets.
There are, of course, an equal number of politicians who insist that Pawar would prefer a shot at the Prime Minister's Office much more; they concede that the NCP chief knows fully well that chances of this dream coming true are now nearly impossible.
Yet, despite what may appear to be his best shot at becoming India's First Citizen, Pawar, in a style typical of his politics, hasn't shown any overt excitement at the prospect of being the Opposition's consensus candidate nor has he personally lobbied for the role.
A senior Congress leader who was once a Pawar aide told The Federal, "There is no doubt that he nurses the ambition of being India's President but Pawar saheb is also a hardcore pragmatist… he knows that his chances of victory will be slim if the BJP puts up a candidate, which it most certainly will, and he doesn't like to lose. Even if he desperately wants to contest, he will not drop any such hint and would rather have leaders of all parties approach him… if he decides to contest, he will make it seem like he was forced into the fray and was either doing the Opposition parties a favour or that he saw his candidature more as a duty to the nation."