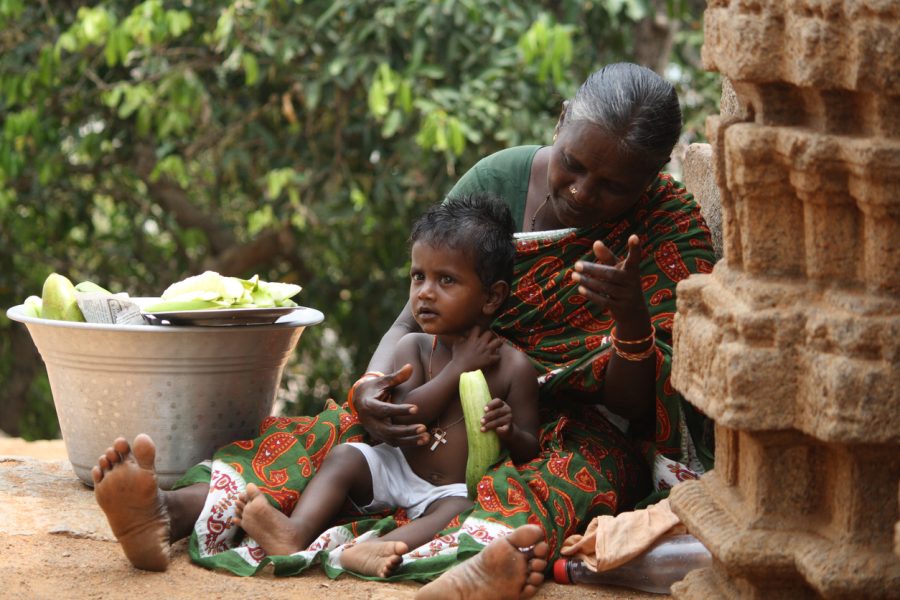 While Finance Ministry takes refuge in data, the poor bear the brunt of soaring inflation
The cost of food, housing, transport and healthcare have all risen by 50 per cent since the middle of last year, the government's own data suggests, even as PDS barely covers the needs of the poor
A post on social media went viral over the last few days that had the picture of Union Finance Minister Nirmala Sitharaman with the text below it saying: 'Inflation will affect the rich more than the poor in 2022'. The government on Monday came out with a statement disputing it.
"A Tweet with the picture of Union Finance Minister @nsitharaman is being circulated claiming that the Finance Ministry has stated-'Inflation will affect the rich more than the poor in 2022.' The Claim is fake. @FinMinIndia has not given such statement," the Press Information Bureau (PIB)'s fact-check division posted on its Twitter account.
The 'fake' tweet had circulated after the publication last week of the Finance Ministry's monthly economic review for April. The review, released on May 12, said: "While inflation is expected to be elevated in 2022-23, mitigating action taken by the Government and RBI may reduce its duration. Evidence on consumption patterns further suggests that inflation in India has a lesser impact on low-income strata than on high-income groups."
Inflation at an 8-year high
The claim and counterclaim over inflation comes at a time when retail inflation rose to an eight-year high in April to 7.79 per cent, even as industrial growth continued to falter amid rising risks from the ongoing Russia-Ukraine war.
Also read: WPI inflation spikes to record high of 15.08% in April
The ministry's findings are seemingly at odds with comments made by Reserve Bank of India Governor Shaktikanta Das. In his statement announcing the surprise 40-basis-point repo rate hike on May 4, Das had said that sustained high inflation has "pronounced adverse effects on the poorer segments of the population by eroding their purchasing power."
In its review report, the Finance Ministry used data from the 2011-12 National Sample Survey on Household Consumer Expenditure to arrive at its conclusions.
Poor bear the brunt
However, the fact remains that the poor are bearing the brunt of inflation. The prices of essential food items have increased by 50 per cent in seven years, whereas the real wage rate has risen by 22 per cent. These figures show that inflation has outsmarted the real income of the poor, making their lives miserable as the food basket constitutes a substantial proportion of the total expenditure on the poor, says a report in The Tribune.
Interestingly, the data released by the ministry just an hour after the review report showed rural inflation in April at 8.38 per cent, the highest in eight years.
Expectedly, it is the poor who have been the hardest hit. The cost of food, housing, transport and healthcare have all risen by 50 per cent since the middle of last year, data suggests, a Moneycontrol report said.
Domino effect of high fuel prices
High fuel prices have pushed up the prices of most commodities and services. The cost of LPG has shot up. A non-subsidised 14.2 kg domestic LPG cylinder costs Rs 999.50 in Delhi this month, up from Rs 949.50 previously.
Also read: India wants WTO to play its role in containing global inflation
In the last one year, prices of food and beverages have risen by 8.4 per cent. While vegetable prices had contracted 14.53 per cent in April last year, it jumped 15.41 percent last month, according to government data.
The figures released by the Union Ministry of Statistics and Programme Implementation (MoSPI) indicate that food items have a big role to play in the increase in retail inflation. The prices of almost every essential in the food basket have increased. Edible oil prices went up in April by around 18 per cent. There is no relief from the skyrocketing prices of vegetables, which have gone up by 16 per cent, and 11 per cent for spices. The prices of prepared meals, snacks, sweets and more have gone up by 7 to 10 per cent. Cereals and their products have become dearer by 6 per cent, while milk and dairy products have witnessed an increase of around 6-8 per cent.
PDS does not fulfil requirements
In India, nearly 70 per cent of the population resides in rural areas. Majority of them are covered under the Food Security Act and get two to three staple foods like wheat and rice under the Targeted Public Distribution System (TPDS), but they hardly get pulses, edible oil and other essentials.
Also read: As inflation spikes to 8-year high, Indians see package 'shrinkflation'
The Public Distribution System (PDS ) has its limitations. It does not fulfil all need-based requirements of the poor. That is why food security does not secure the poor rural people from a spike in inflation, a News18 report points out adding, that edible oils, pulses, fruits and nutritious items remain out of reach for more than 70 per cent of the rural population.
According to the Centre for Monitoring Indian Economy (CMIE), at least 7 million Indians lost their jobs because of COVID-19, and the inflation has hit India's poor when they were yet to recover from job losses and pay cuts that resulted from the pandemic.