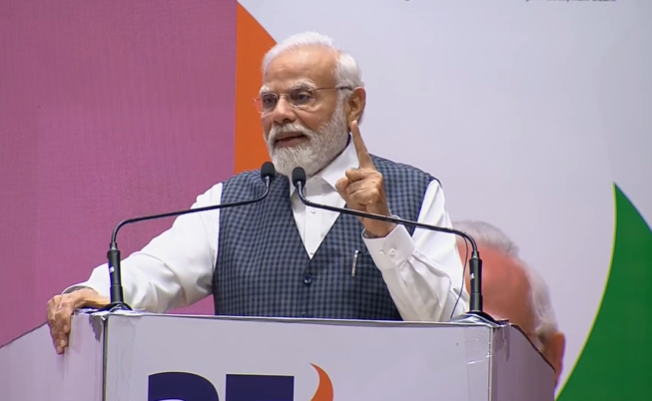 PM Modi sets new record with over 90 million followers on Twitter
Prime Minister Narendra Modi is one of the most followed politicians on Twitter with more than 90 million followers on the social media platform.
According to World of Statistics, Modi is ranked in the top 10 of most followed on Twitter with Tesla CEO Elon Musk the most followed in the world with 147 million-plus followers.
Also read: NDA unites people, opposition divides them, says PM Modi
PM Modi, who joined Twitter in January 2009, has 90.2 million followers on Twitter, as of Wednesday (July 19). Modi is following 2,589 people on Twitter. Modi has more followers than US President Joe Biden (37.3 million followers).
Modi is the lone Indian in the top 10 of most followers list on Twitter. He is eighth position in the global list. Former US President Barack Obama is second after Musk with 132.1 million followers. Canadian singer Justin Bieber is third with 112 million followers.
Portuguese football star Cristiano Ronaldo has 108.9 million followers and is in fourth position. Barbadian singer Rihanna is in fifth place with 108.2 million followers, as per World of Statistics.
Most followed accounts on Twitter:

1. 🇺🇸Elon Musk: 147m
2. 🇺🇸Barack Obama: 132.1m
3. 🇨🇦Justin Bieber: 112m
4. 🇵🇹Cristiano Ronaldo: 108.9m
5. 🇧🇧Rihanna: 108.2m
6. 🇺🇸Katy Perry: 107.3m
7. 🇺🇸Taylor Swift: 93.4m
8. 🇮🇳Narendra Modi: 90m
9. 🇺🇸Donald Trump: 86.6m
10. 🇺🇸Lady Gaga: 84.1m…

— World of Statistics (@stats_feed) July 9, 2023