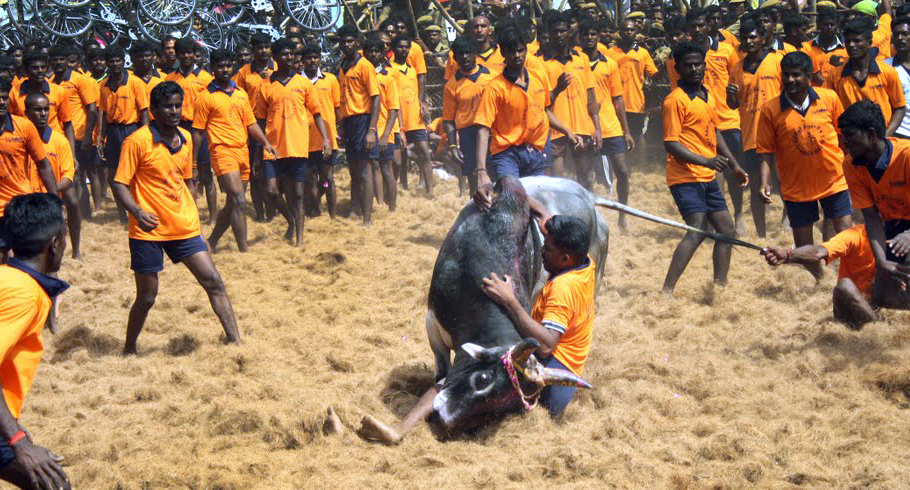 PETA India on Thursday (May 18) said it is actively pursuing legal options to safeguard bulls after the Supreme Court upheld the legitimacy of amendment acts in Tamil Nadu, Maharashtra, and Karnataka, permitting activities such as Jallikattu, bullock-cart races, and Kambala buffalo racing.
Animal rights groups, led by People for Ethical Treatment of Animals (PETA), had challenged these practices in the top court.
However, a five-judge constitution bench headed by Justice K M Joseph upheld the validity of amendment acts of Tamil Nadu, Maharashtra and Karnataka which allowed these practices.
Also Read: Assam elephant mistreated again in Tamil Nadu temple: PETA
Reacting to it, PETA called on everyone to steer clear of "shameful spectacles" that exploit bulls and buffaloes as "we explore legal remedies to protect these long-suffering animals".
Jallikattu, also known "eruthazhuvuthal, is played in Tamil Nadu as part of the Pongal harvest festival.
The Kambala race, held in the state of Karnataka between November and March, involves a pair of buffaloes tied to a plough and anchored by one person. They are made to run in parallel muddy tracks in a competition in which the fastest team wins.
Since the Tamil Nadu government allowed Jallikattu in 2017, at least 33 bulls and 104 people have been killed and 8,388 people have been injured in events throughout the state, PETA India said, quoting various news reports.
Also Read: Jallikattu, Kambala, bullock-cart races: SC upholds validity of amendment laws
Since many bull deaths and human injuries are not reported, these figures are likely vast underestimates, it claimed.
Other activists also slammed the verdict.
Gauri Maulekhi, trustee of People for Animals (PFA), said Jallikattu, Kambala and other such practices are nothing but unnecessary suffering and pain for the animals.
"The verdict dismisses the lives of countless animals, and of the people who died of agonising injuries from the brutality that is Jallikattu," she said.
"Were deeply disappointed by today's judgment. Morality cannot be compromised in the guise of culture. The same court interprets culture differently when it is about same sex marriages but people being gored to death in Jallikattu events seem like a precious tradition that they wish to preserve," Maulekhi told PTI.
Also Read: Supreme Court allows Jallikattu as a sport, directs state to protect animals
In 2014, the Supreme Court passed a detailed and well-reasoned judgement in Animal Welfare Board of India vs A Nagaraja & Ors, holding Jallikattu and bull races to be unconstitutional and in violation of the rights guaranteed to animals under the Constitution of India and The Prevention of Cruelty to Animals (PCA) Act, 1960. However, after this judgement was passed, Tamil Nadu, Karnataka and Maharashtra amended the PCA Act to allow Jallikattu, Kambala, and bullock cart races, respectively. All three state amendments were challenged by PETA India for which the verdict came out on Thursday.
(With agency inputs)