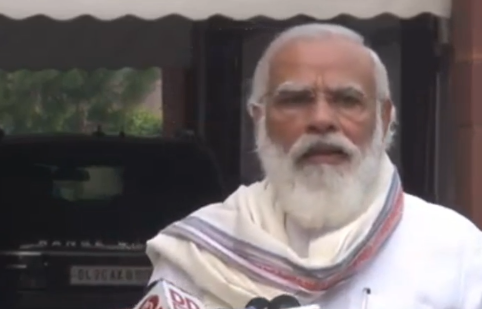 Parliament will stand behind brave soldiers who guard India's border: Modi
Ahead of the Winter Session of Parliament on Monday (September 14), Prime Minister Narendra Modi said he hopes the House will send the unanimous message that it stands firmly behind the soldiers guarding India's borders.
"Today when our brave soldiers stand solidly on the border in treacherous mountains, not caring for the biting frost and snowfall, I am confident that the Parliament will unanimously stand behind them," he said while speaking to the media after arriving at the Parliament.
Modi said the Monsoon Session will see key decisions and discussions on important issues.
"In Lok Sabha, a through discussion on a topic brings clarity and helps the country benefit from it. We all MPs will add value addition in the same way on several subjects this time," he said.
Stressing that precautions and protocols for coronavirus should be strictly followed until a vaccine is developed, he lauded MPs for choosing to do their duty for the people despite a pandemic situation.
Related news: In first Parliament appearance since August 5, Farooq may raise J&K issue
"We had to change timings of Lok Sabha and Rajya Sabha and weekend off have been cancelled. But all MPs have accepted the decision without any qualms," he said.
The Opposition is likely to question the government on the border crisis at eastern Ladakh, the handling of the coronavirus pandemic and the economic slowdown. The government has listed nearly two dozen new legislations for passage during the COVID-curtailed proceedings. The 18-day session is being held amid unprecedented precautionary measures against COVID-19 due to a continuing spike in cases.
On the eve of the session, the Union Health Ministry reported 94,372 fresh cases in 24 hours. The government has listed 23 new legislations for consideration and passage including 11 bills replacing ordinances. There also 20 other bills pending in either Lok Sabha or Rajya Sabha.
Several of the opposition parties are likely to oppose four of the bills replacing ordinances relating to the farm sector and the banking regulation amendments.