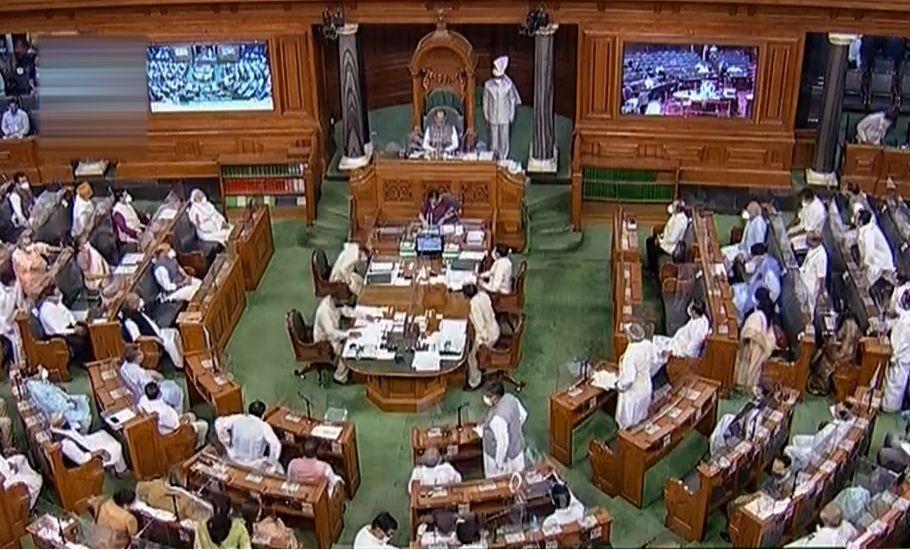 An 18-day truncated monsoon session of parliament began on Monday (September 14) amidst unprecedented safety measures that include staggered seating arrangements in both Houses, poly-carbon sheets used as separation and a mobile app to register attendance among other things.
A total of 18 bills are to be taken up in this monsoon session, which is special mainly because it is the first time MPs are meeting after the pandemic broke out and the country's GDP is at an all-time low of -24%.
Safety first
About 200 of the 785 MPs are above the age of 65 and among the most vulnerable to Covid-19. Considering their safety, Lok Sabha Speaker Om Birla sent special Covid kits to all. Each kit, prepared by defence research organisation DRDO, contains disposable masks, N-95 masks, sanitizers, face shields, gloves, herbal sanitation wipes and tea bags to enhance immunity. Each kit also contains a Covid safety manual.
No Zero Hour
The government remained firm on its 'no Question Hour' decision and passed a resolution to this affect in the morning. "When assemblies aren't ready to meet for a single day, we, with around 800-850 MPs, are meeting here. There are so many ways to question the government, the government isn't running away from discussion," Parliamentary Affairs Minister Pralhad Joshi said in Lok Sabha, justifying the government's decision.
Related news: Opposition protests question hour suspension; govt says MPs had agreed
Prime Minister Narendra Modi spoke on the India-China border tiff. "We hope parliament and all members will unitedly send the message that the nation stands with our soldiers," Modi said.
25 MPs test positive, but…
Meanwhile, seventeen members of the Lok Sabha and eight from the Rajya Sabha tested positive for coronavirus in the mandatory tests carried out on September 12.
Among those who tested positive, the BJP has a maximum number i.e. 12. The YSR Congress has two MPs, the Shiv Sena, DMK and RLP one each. Overall 56 people tested positive, which includes parliament officials, media persons and MPs of course.
However, the credibility of RT-PCR test conducted in Lok Sabha is under suspicion after a Lok Sabha member, one of the 17 who tested positive before parliament's monsoon session, shared a contradictory report.
Hanuman Beniwal, an MP from Rajasthan, after being ruled out of the session, said a second test conducted at Jaipur's premier SMS hospital gave "negative" result. "Which report should be considered accurate?" he said.
Lockdown prevented 29 lakh cases – Harsh Vardhan
Union health minister Harsh Vardhan justified the lockdown imposed by Prime Minister Narendra Modi as he told parliament that because people stayed home, a "major crisis" was averted. The lockdown "prevented" up to 29 lakh cases and saved thousands of lives, "I congratulate PM Modi," the minister said in a statement.
PM calls new Rajya Sabha Deputy Chairman Harivansh an "outstanding umpire"
Prime Minister Narendra Modi congratulated Rajya Sabha member Harivansh Singh for getting elected as the deputy chairman of the Upper House. Modi took the opportunity to highlight the role of Bihar in the country's parliamentary ethos, recalling former greats like Jayaprakash Narayan and Karpuri Thakur.
Related news: Parliament will stand behind brave soldiers who guard India's border: Modi
On Sunday, Shiv Sena, once an alliance partner of BJP, asked through an editorial published in its mouthpiece "Saamna", if the parliament will discuss seriously important issues like Chinese aggression along the LAC, Covid-19 and unemployment.
Trinamool MP's comment on FM deleted, BJP seeks apology
Chaos prevailed in Lok Sabha for some time when TMC's Saugata Roy passed a personal remark at Finance Minister Nirmala Sitharaman while making a statement on the Banking Regulation Amendment Bill.
The personal comment has now been expunged, but it did cause an outcry in the lower house. BJP MPs sought an apology from Roy, who refused to do so.
The Finance Minister retorted, "If only Saugata Roy could listen instead of making remarks on other factors."
MSP on farm produce stays; farmers will get investment, tech boost
Union agriculture minister Narendra Singh Tomar on Monday introduced three bills in Lok Sabha on agriculture sector. He said these bills are vital for farmers to get a remunerative price for their produce and bring in private investment and technology in agriculture.
Tomar said the bills will enable barrier-free trade in agricultural produce and give farmers the freedom to engage with investors of their choice.
Centre doesn't know how many migrants died during lockdown
The Union government does not know how many migrant workers may have died during the 68-day nationwide lockdown restrictions that were enforced from March 25 in a bid to curb the spread of the coronavirus disease (Covid-19) outbreak, the Union Labour Minister told Parliament on Monday.
Santosh Kumar Gangwar, Minister of State (MoS) with independent charge in the Ministry of Labour and Employment, gave the response on a question raised in the Lok Sabha.
Today, the Lok Sabha met before lunch while the Upper House (Rajya Sabha) assembled post-lunch. From tomorrow it will be the other way round.