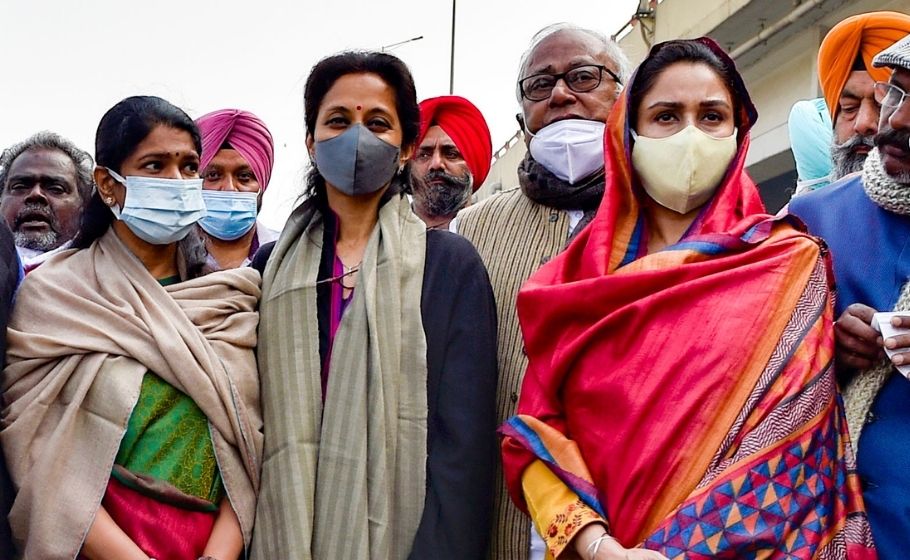 Oppn MPs' delegation stopped from reaching Ghazipur to meet farmers
Police stopped a 15-member delegation of Opposition MPs from reaching Ghazipur border of Delhi on Thursday to meet the farmers protesting against the Centre's new farm laws.
Police stopped a 15-member delegation of Opposition MPs from reaching Ghazipur border of Delhi on Thursday to meet the farmers protesting against the Centre's new farm laws.
The MPs, belonging to 10 different parties including Shiromani Akali Dal (SAD), DMK, NCP, and Trinamool Congress (TMC), were led by SAD MP Harsimrat Kaur Badal, who said they were not allowed to cross the barricades and reach the protest site.
Today 15 MPs representing different political parties from Kashmir to Kanyakumari went to #GhazipurBorder to express solidarity with farmers & demand imm repeal of the 3 hated #FarmLaws. We also demand an end to atrocities being meted out to peacefully agitating farmers. pic.twitter.com/bvilkFFiLM

— Harsimrat Kaur Badal (@HarsimratBadal_) February 4, 2021
"We're here so that we can discuss this issue (farmers' protest) in Parliament. The Speaker is not letting us raise the issue. Now all parties will give details of what is happening here," said Badal, a former Union minister who had resigned in protest against the new laws.
In a series of tweets posted along with her interviews to news channels, she said she saw first-hand the condition at Ghazipur border. "Shocked to see the treatment being meted out to the annadaata. Farmers are barricaded behind fortress like concrete barriers and barbed wire fencing. Even ambulances and fire brigades cannot enter the protest site," she said.
"See the high handedness of BJP-led GOI even against the MPs! We were forced to alight 3 km from the peaceful protest site. But we are undeterred. We are determined to see the conditions first hand and force the government into action," she said in another tweet.
Related news | 'Build bridges, not walls': Rahul to govt as security tightened at Delhi borders
Several opposition parties had asked the Centre to withdraw the three controversial farm laws without making it a prestige issue and not to treat the agitating farmers as "enemies", during a discussion in the Parliament's ongoing Budget session on Wednesday.
NCP's Supriya Sule, DMK's Kanimozhi and Tiruchi Siva and TMC's Saugata Roy were among the delegation members, besides MPs from National Conference, RSP and IUML.
गाझीपूर बॉर्डर, दिल्ली येथे गेली ७० दिवस आंदोलन करीत असलेल्या शेतकरी बांधवांना भेटण्यासाठी आम्ही काही खासदार गेलो होतो.परंतु आम्हाला त्यांना भेटू दिले नाही.गाझीपूर बॉर्डरचे दृश्य पाहून आपण नक्की भारतातच राहतो का असा प्रश्न पडला. pic.twitter.com/62EB2HUA4w

— Supriya Sule (@supriya_sule) February 4, 2021
"In our culture, it is called 'Annadata Sukhi Bhav'. The farmer is our breadwinner. We all feel that for him to be happy, the central government must take a step forward and listen to his grievances and come up with a satisfactory solution," said Supriya Sule of NCP.
போராடும் விவசாயிகளுக்கு குடிநீர், இணைய தள சேவை உள்ளிட்ட அடிப்படை உரிமைகள் மறுக்கப்பட்டுள்ளன. அவர்களை எதிரிகளைப் போல் அரசு நடத்துகிறது. அவர்கள் பிரச்சனையை கேட்டறிய டெல்லி காசிப்பூர் எல்லையில் உள்ள விவசாயிகளை நேரில் சந்திக்க எதிர்க்கட்சி பாராளுமன்ற உறுப்பினர்களுடன். pic.twitter.com/rHXCGrBdFN

— Kanimozhi (கனிமொழி) (@KanimozhiDMK) February 4, 2021
Kanimozhi said in a tweet that farmers are being denied basic rights, including drinking water and internet service. "The government treats them like enemies," she tweeted.
Security was tightened at the Singhu, Ghazipur and Tikri borders of Delhi following the January 26 violence during the farmers' tractor parade. Barbed wires and spikes have been installed at Ghazipur on the Delhi-Uttar Pradesh border, one of the key protest sites where thousands of farmers are camping demanding the repeal of the new agri-marketing laws.
Priyanka Gandhi meets family of farmer who died in violence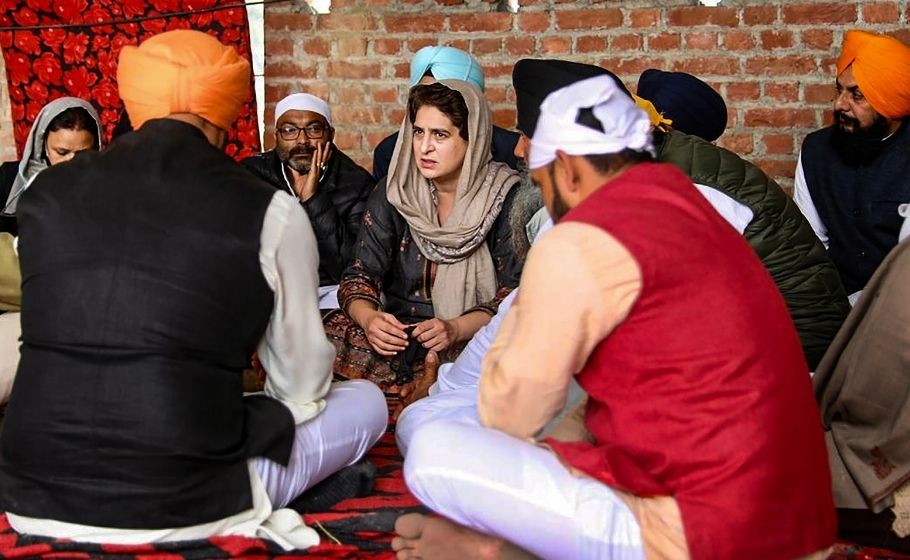 Meanwhile, Congress leader Priyanka Gandhi Vadra on Thursday met the family members of Navreet Singh, a farmer who lost his life during the protest in Delhi on Republic Day, in UP's Rampur and also attended a prayer ceremony for him. The 27-year-old Singh had died after his tractor overturned during the farmers' tractor parade on January 26.
"The family members of the deceased want judicial inquiry. We are with the farmers and their families. The government is yet to identify this movement as real struggle. There's no politics behind it. This is pain of our farmers," ANI quoted her as saying.
Earlier on her way to Rampur, three to four vehicles in Gandhi's convoy collided with each other on a highway in western Uttar Pradesh's Hapur district. No one was hurt but vehicles at the end of the convoy hit each other, media in-charge of the Congress, Lalan Kumar said in Lucknow. Some vehicles were damaged, he said adding that the Congress leader is safe.
Related news | Modi govt's handling of farmers' protest has hurt India's reputation: Rahul
Thousands of farmers protesting against the laws since last year as they believe these laws would pave the way for dismantling of minimum support price (MSP) system, leaving them at the "mercy" of big corporations. However, the Centre has maintained that the new laws will bring better opportunities to farmers and introduce new technologies in agriculture.
Eleven rounds of formal talks between the government and the protesting farmer unions have failed to break the deadlock. While unions have stuck to their main demand of repeal of the laws and legal guarantee of MSP, the Centre has offered some concessions including keeping these laws on hold for 1-1.5 years. Even the Supreme Court has stayed the laws for two months and set up a panel to look into the matter.
(With inputs from agencies)