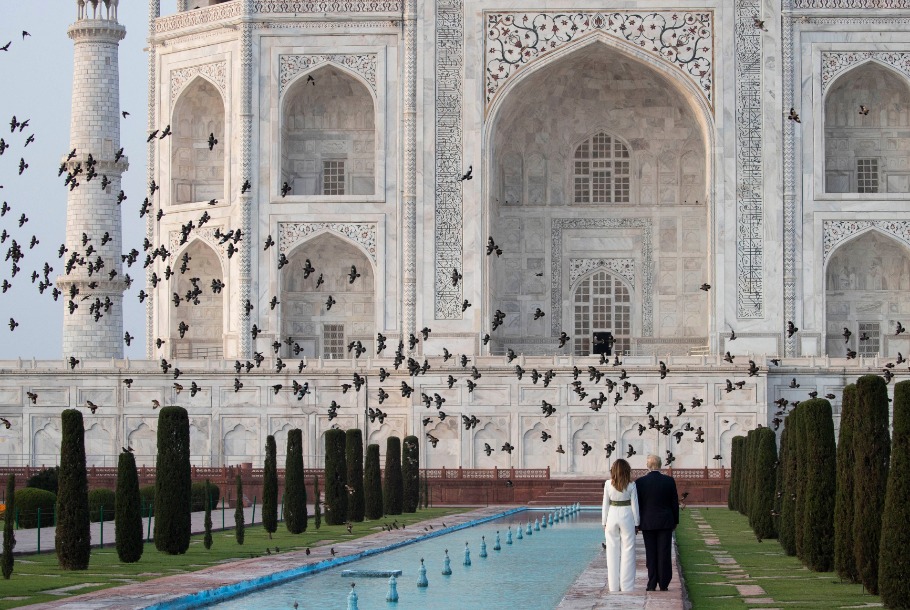 Open locked rooms in Taj Mahal to unearth Hindu idols: Plea filed in HC
A Bharatiya Janata Party functionary has filed a petition in the Lucknow bench of the Allahabad high court seeking directives to the Archaeological Survey of India (ASI) to open 20 rooms inside the Taj Mahal in Agra to discover if Hindu idols and inscriptions are hidden there.
The petition filed by Dr Rajaneesh Singh, BJP party media-in-charge, Ayodhya district, is yet to come up for hearing.
According to media reports, Singh said that there is an old controversy surrounding 20 rooms in Taj Mahal which are locked and nobody can enter those rooms. They are believed to contain idols of Hindu gods and scriptures, he said, adding that he has filed the petition seeking directives from ASI to open these rooms.
He wanted to open these rooms since there is no harm in doing so and put an end to all the controversies around them. Singh also wanted the court to issue an order to the state government to constitute a committee to look for any "important historical evidence" related to Hindu idols or scriptures in these rooms. He is being represented by advocate Rudra Vikram Singh.
Also read: Rewriting history to 'cleanse' India's list of national icons
Earlier in 2020, Rajneesh Singh had filed a RTI with the Union ministry of culture to find  out what is inside the 20 locked rooms of Taj Mahal. The Union ministry of culture replied to the RTI stating that these rooms were locked for security reasons and no other detail was shared, said Singh.
When all his efforts did not yield any result, Singh then knocked on the doors of the high court to constitute a fact-finding committee to find out whether Hindu gods and scriptures are inside the rooms. Several right-wing organisations, in fact, claim Taj Mahal to be Tejo Mahalaya, a Hindu Shiva temple.
n 2017, BJP leader Vinay Katiyar too claimed the Taj Mahal was originally a Shiva shrine and in January 2019, BJP leader Anant Kumar Hegde also said that the monument was not built by Shah Jahan but rather bought by him from King Jayasimha.
However, the ASI has time and again rubbished such interpretations of Taj Mahal's history and in February 2018, the ASI filed an affidavit in an Agra court. It stated that the Taj Mahal was indeed built as a tomb by the Mughal emperor Shah Jahan for his wife, Mumtaz Mahal.