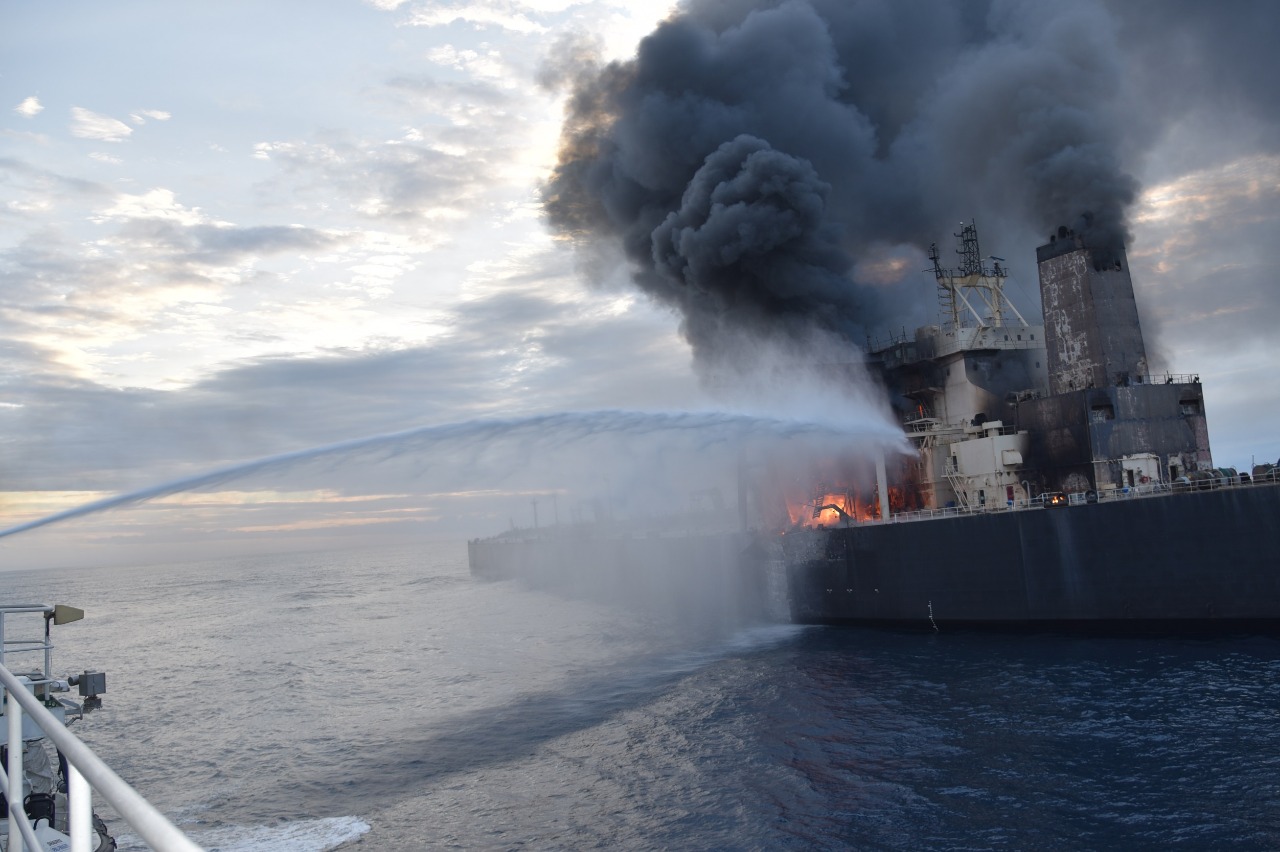 One presumed dead in oil tanker blaze in Indian Ocean
A Filipino crew member is presumed dead in a fire that broke out in a supertanker ferrying almost 2 million barrels of oil in the Indian Ocean off the East Coast of Sri Lanka on Thursday (September 3).
According to Indian Coast Guard (ICG), the fire is still raging on the New Diamond tanker, chartered by the Indian Oil Corporation (IOC), even as sea and air-coordinated operation by the ICG is underway to douse it.
While the ICG has already sent its ships Shaurya, Sarang and Samudra Paheredar and Dornier Aircraft to the site, additional ship Ameya and Abheek and 02 CG Dornier aircraft will be deployed on Friday.
#FireFighting #ICG ships successfully doused fire in accommodation area. #ICG ship Shaurya continuously fighting fire with 03 tugs engaged in boundary cooling. 02 mtrs crack observed near Port aft portion 10 mtrs above waterline. pic.twitter.com/jQLGPq1Fpf

— Indian Coast Guard (@IndiaCoastGuard) September 4, 2020
INS Sahyadri, two Sri Lankan Naval ships as well as many Russian warships (from Sri Lanka's Hambantota harbour) were also helping in the firefighting operation, reports said.
The Filipino crew member, who is presumed dead, was missing from the supertanker when it caught fire. He was grievously injured when a boiler exploded, spokesman Captain Indika de Silva told Reuters.
There were 23 crew on board – five Greek and 18 Filipinos. While one of them who was injured was airlifted, the rest, barring the missing Filipino, were accounted for.
The fire broke out in the engine room of the ship on Thursday morning and spread to the bridge. The ship carrying Kuwait Export Crude had started from the port of Mina A Ahmadi in Kuwait and was bound for Paradip Port in Odisha.