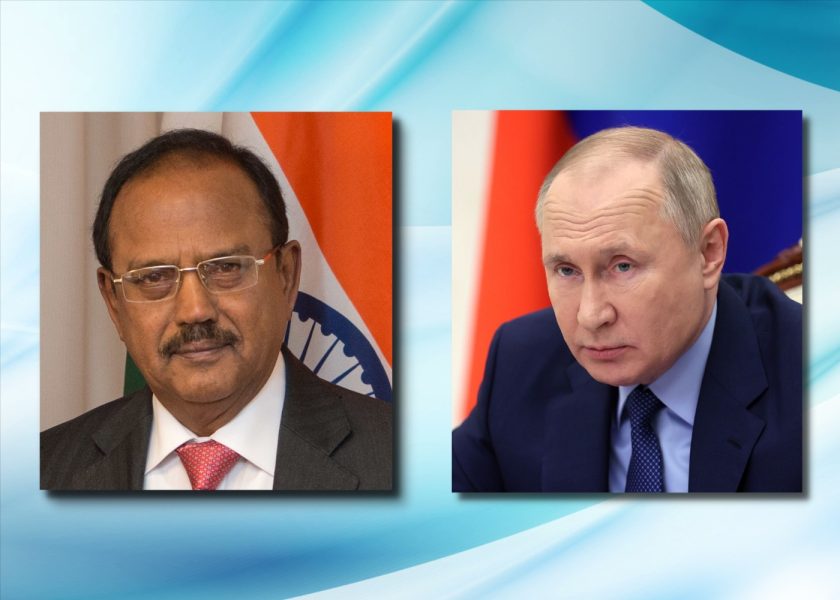 NSA Doval meets Putin in Moscow, says India will never abandon Afghanistan
On Thursday (February 9), National Security Advisor Ajit Doval of India and President Vladimir Putin of Russia had comprehensive talks in Moscow and decided to keep moving forward with strengthening the strategic partnership between their two countries.
The Indian embassy in Moscow stated that the discussions touched upon both bilateral and regional topics, but did not provide further details.
Also Read: US not mulling sanctions against India over Russian oil purchase
A tweet from the Indian embassy in Russia read, "NSA Ajit Doval met with President Putin. Discussions included a range of bilateral and regional issues, with a commitment to furthering the India-Russia strategic partnership." Doval's two-day trip to Russia started on Wednesday.
🇮🇳 NSA Ajit Doval called on HE President Putin. Wide-ranging discussion on bilateral and regional issues. Agreed to continue work towards implementing the India-Russia strategic partnership. pic.twitter.com/SMHe6VI9ve

— India in Russia (@IndEmbMoscow) February 9, 2023
In addition to representatives from India and Russia, representatives from Iran, Kazakhstan, Kyrgyzstan, China, Tajikistan, Turkmenistan, and Uzbekistan were also present at the meeting.
Doval reiterated that no country should be allowed to use Afghan territory to export terrorism and asserted that India will never abandon the people of Afghanistan in their time of need.
Inclusive govt need of the hour
He said that an inclusive and representative dispensation in Kabul is in the larger interest of the Afghan society.
He also reaffirmed that the wellbeing and humanitarian needs of the people of Afghanistan is India's foremost priority and it will continue to guide New Delhi's approach towards that country, official sources said.
India an important stakeholder
In his remarks at the meeting, Doval said that India "is and will" remain an important stakeholder in Afghanistan.
"We always stood by the people of Afghanistan and will always support collective efforts to help the Afghan people build a prosperous and vibrant nation once again," the sources quoted Doval as saying.
The meeting discussed various issues related to Afghanistan, including the security situation and humanitarian challenges facing the country, they said.
The third round of this conference was held in Delhi under chairmanship of Doval in November 2021.
Also Read: Will do everything needed to wean India away from Russia: Pentagon
The NSA said terrorism has become a major threat to the region and emphasised that intensified intelligence and security cooperation is needed among member states to deal with terror outfits like the Lashkar-e-Toiba, the Jaish-e-Mohammed and the Daesh, according to the sources.
Doval also spoke about the importance of the UN Security Council resolution 2593 that called for terror outfits, including those designated by the top UN body, to be denied sanctuary in the region, they said.
The NSA said that Afghanistan is passing through a difficult phase and that "India will never abandon the Afghan people in their time of need".
India has not yet recognised the Taliban regime in Afghanistan and has been pitching for the formation of a truly inclusive government in Kabul.
Also Read: We want to diversify ties with India: Russian Ambassador Alipov
Following the humanitarian crisis in Afghanistan after the Taliban seized power, India has delivered 40,000 metric tonnes of wheat, 60 tonnes of medicines, 5,00,000 Covid vaccines, winter clothing and 28 tonnes of disaster relief to the country.
India has granted fresh scholarships to 2,260 Afghan students, including 300 Afghan girls, during the past two years.
India has been pitching for providing unimpeded humanitarian aid to Afghanistan to address the unfolding humanitarian crisis.
In June last year, India re-established its diplomatic presence in Kabul by deploying a "technical team" in its embassy in the Afghan capital.
Also Read: India can initiate dialogue to ease Russia-Ukraine situation, says US
India had withdrawn its officials from the embassy after the Taliban seized power in August 2021 following concerns over their security.
Mr. Doval's visit to Moscow precedes the G-20 Foreign Ministers' meeting set to take place in New Delhi in the coming weeks.
Russian Foreign Minister Sergey Lavrov is scheduled to visit India for the meeting on March 1st and 2nd. Despite the Russian invasion of Ukraine, the relationship between India and Russia remains strong. India's imports of Russian crude oil have risen in recent months, despite growing concerns about it among Western countries.
On Monday, Russian Ambassador to New Delhi Denis Alipov said Russia wants to further diversify its relations with India.
The NSA's visit to Russia came three months after External Affairs Minister S Jaishankar travelled to the country during which the two sides vowed to expand their economic engagement including India's import of petroleum products from its "time-tested" partner.