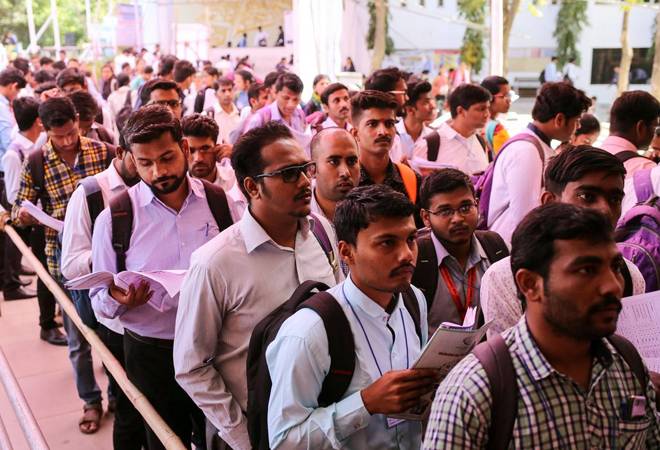 North Indians pushing out locals for central govt jobs in TN, allege activists
Maadhu (39) is frustrated and angry. A job in the Indian Railways has always been his dream.
Maadhu (39) is frustrated and angry. A job in the Indian Railways has always been his dream. So after completing his ITI course, he became an 'act apprentice' and completed it in 2010, hoping he would be absorbed when vacancies opened up in the Railways. It has been a 10-year wait.
The Railways' decision in 2018 to have 20 percent quota in recruitment of general managers for act apprentices who clear the requisite exams has not enthused him much. Maadhu and many others like him from Tamil Nadu are, in fact, against the rule. Firstly, they argue, they wrote many exams to complete the apprenticeship and that they are not keen on taking another exam. Secondly, they allege that even if they take the exam, general managers from the north tend to pick candidates from states in that region to fill the vacancies under the quota.
This is now a common refrain among thousands of candidates in Tamil Nadu — that north Indians are taking most central government jobs in the state. They say they have data to prove their point.
Recently, when 581 vacancies for technicians at the Ponmalai Railway Workshop in Tiruchirappalli were filled, only 12 candidates were selected from Tamil Nadu. Most of the others were from Bihar or Rajasthan. Earlier, in August, when COVID restrictions were in place, about 180 candidates from north India landed in Tiruchirappalli for certificate verification for the post. They said they came by flights and that none of them was tested for COVID or quarantined.
"In Railways, medical tests are conducted at the place where the certificate verification is done. Candidates must undergo the test at a railway hospital located in the jurisdiction of the zone concerned. But, the candidates from north India who came to Tiruchirappalli were not put through any test or quarantined," said Ilakkuvan, a member of the Tamil Nadu Job Rejected Youth Rights Reclamation Movement.
A two-decade trend: Activists
This, say activists, is not a new development. According to them, it has been going on systematically for about two decades.
In an employment drive conducted by the Railway Recruitment Board (RRB) for 884 vacancies in the Chennai Railway Zone in 2012, only 80 Tamils were selected. In 2013, when the Railway Recruitment Cell (RRC), which appoints personnel for Group-D jobs, filled 2,361 vacancies, it selected only 74 Tamils.
This trend is not confined to just the Railways, the activists allege. Between 2002 and 2005, Bharat Heavy Electricals Limited (BHEL), Tiruchirappalli, selected 138 engineers, of which not a single candidate was from Tamil Nadu. In 2008, when it selected 77 executive engineers, only 17 were from the state.
The income-tax office in Chennai appointed 200 assistants in 2008; only four were from the state. In 2014, there were only three Tamil people when it filled 78 various vacancies.
Similarly, of the 100 chargemen selected at Heavy Vehicles Factory in Avadi, only 15 were from Tamil Nadu. In 2011, it selected 108 apprentices, of which only 15 were Tamils.
Fighting malpractices and rules
These data were collected in 2019 by the Tamil Desiya Periyakkam, an organisation espousing the cause of Tamil nationalism. While the appointments from north is a concern, what is more disconcerting is candidates from those states resorting to malpractices to get central government jobs, said P Maniarasan, the organistation's founder.
"In 2015, the police arrested three people from Bihar, employed at the income-tax office in Chennai, for joining service through malpractice. In 2016, the exam conducted by the postal department was declared invalid after some candidates from north India were found to have been impersonated during the exam. What caused suspicion was their score of 24 out of 25 marks in Tamil. An investigation is on into the matter," he said.
Maniarasan said the rules drafted by central and state governments have also allowed candidates from other states to "grab job opportunities" in Tamil Nadu.
"In 2014, the RRC did a recruitment drive for 5,550 vacancies at various Railways establishments in southern zone, including the Integrated Coach Factory at Perambur in Chennai. The cell accepted online applications without any attestations from candidates of other states. However, it mandated Rule 25 (getting attestations from government officials) only for Tamil Nadu candidates. Even then it rejected nearly 2,27,000 applications from the state. This was an example of racial discrimination," he said.
"In 2015, when Indira Gandhi Centre for Atomic Research in Kalpakkam recruited laboratory assistants, it mandated a certificate in chemical laboratory course. The course is not offered anywhere in the state. As a result, many northerners occupied the vacancies."
In September 2016, the state government enacted the Tamil Nadu Government Servants (Conditions of Services) Act, allowing appointment of persons not only from other states but also even certain sections of people who have returned from other countries such as Pakistan, Burma, Sri Lanka, Vietnam and east African nations. It says even persons without working knowledge of Tamil can apply, although, if appointed, they should learn it within two years from the day of commencement of service and clear the language exam.
"If they don't pass the exam, they are to be dismissed, the rule says. But, we don't know how many have been dismissed as per this rule in the last three years because we lack data," said Maniarasan.
In 2017, when the Teachers Recruitment Board conducted exams for appointing lecturers in government polytechnic colleges in Tamil Nadu, instead of giving priority to candidates registered in the state's employment exchanges, it allowed candidates from other states to compete in the 31 per cent open vacancies.
"Out of the 1,058 vacancies, about 68 per cent went to other states' candidates. Even in the 69 per cent reservation vacancies, many belonging to communities in other state were selected. This raised suspicion. After our protests, the board postponed the certificate verification. Later, the exam itself became invalid," Maniarasan said.
In 2019, the state electricity board recruited nearly 300 assistant engineers, of which 39 were from other states. "When we raised this issue, on May 29, the board's chief engineer wrote a letter asking the other state candidates to prepare for the Tamil language exam. The board has recruited them without even knowing that they lack working knowledge of Tamil."
Candidates from Tamil Nadu 'not serious'
Railways should not be blamed for north Indians getting jobs in Tamil Nadu, said Elangovan, the vice-president of Dakshin Railway Employees Union.
"In Bihar and Rajasthan, there are a lot of coaching centres that help candidates crack railway exams. Students who pass SSLC and HSC are the ones most keen on Railway jobs. They get study materials in Hindi. They can write the exams in Hindi. They can also opt for any one Railway zone in the country," he said.
In Tamil Nadu, if three lakh candidates apply, only one lakh will appear for the exam. And those who appear would come without much preparation, he said. "They can write exams in Tamil, but, unfortunately, we don't have study materials in Tamil and we lack coaching centres," said Elangovan.
"The candidates chosen from the state are mostly post-graduates. There are a lot of vacancies in Tamil Nadu. There is 15 per cent reservation for SCs and 7.5% for STs. But, here, there aren't many ST applicants because communities like Irulas and Kurumbas aren't given community certificates. So, candidates from the Meena community in Rajasthan target these vacancies and choose the Tamil Nadu zone. They study, they write the exams and get qualified. There is no question of corruption," he said.
However, Regan, an ex-apprentice and a member of All India Railway Act Apprentice Association, differs. He alleges that north Indians gain employment through forged certificates.
"Most candidates from north have two certificates. While joining, they show the ITI certificate. A candidate may have a certificate of diesel mechanic course, but if you ask him where the piston in an engine is, he wouldn't able to answer," he said.
"After some years, the same candidate would produce a graduation certificate to apply for other posts and write the exams."
The state government should enact a law making working knowledge of Tamil mandatory for getting a job in the state to protect the interests of local candidates, said Elangovan.
Labour and employment department joint secretary Komalavalli said there is no plan to prevent north Indians from taking up central government jobs in the state. "We haven't received any demands from unions on making knowledge of Tamil mandatory for such jobs. If we receive such a representation, we will look into it," she told The Federal.