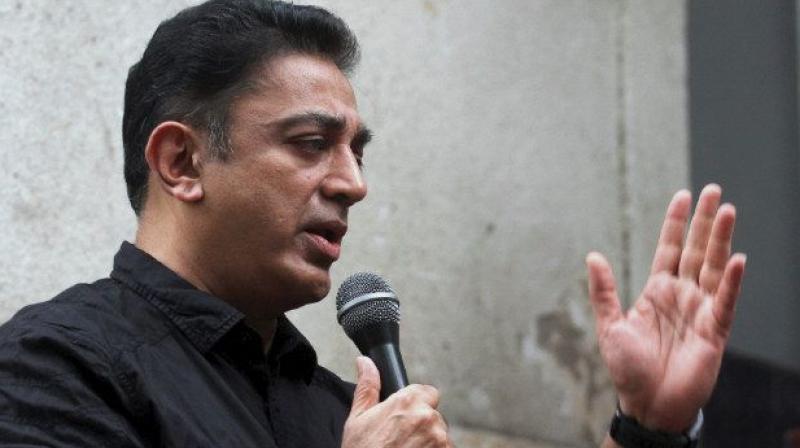 No Shah, Sultan or Samrat must renege on unity in diversity promise: Kamal
Actor-turned politician Kamal Haasan on Monday (September 16) raised his voice and opposed to any attempts to "impose" Hindi saying it was a promise made to the country decades back which "no Shah, Sultan or Samrat must renege on."
Further, the Makkal Needhi Maiam (MNM) founder said, India was an "excellent feast" and that such imposition would lead to "nausea". In a video, he said, "The unity in diversity is a promise that we made when we made India into a Republic. Now, no Shah, Sultan or Samrat must renege on that promise. We respect all languages, but our mother language will always be Tamil."
The "No Shah or Sultan or Samrat" remarks was an obvious reference to Union Home Minister Amit Shah's pitch for Hindi as the nations' common language, which drew sharp responses from many opposition leaders.
Now you are constrained to prove to us that India will continue to be a free country.

You must consult the people before you make a new law or a new scheme. pic.twitter.com/u0De38bzk0

— Kamal Haasan (@ikamalhaasan) September 16, 2019
Puducherry Governor Kiran Bedi on Sunday urged the people from the southern states to learn the language in order to connect with the Government of India. While NDTV quoted, the former IPS officer saying, languages were a unifying force enabling emotional connection between people, also added, "I have to use a translator all the time here" and that non-Hindi speakers who learned "our language" would not "feel the diminishing of their cultural value or heritage". She said, she saw a "very clear disconnect" between people from different states and that that gap was being filled by English.
Referring to the 2017 pro-jallikattu protests in Tamil Nadu, Kamal said, "It was just a protest, the battle for our language will be exponentially bigger than that. India or Tamil Nadu does not need or deserve such a battle."
"India is an excellent feast. Let us consume it together. If one thinks of shoving (food–Hindi in this context), it would lead to nausea please dont do that," Haasan said in the Tamil version of the video.
Referring to the country's National Anthem, Haasan said it was penned in a language (Bengali) that was not mother tongue to most citizens. "Most of the nation happily sings itsNational Anthem in Bengali with pride, and will continue to do so." "The reason is the poet (Rabindranath Tagore) who wrote the National Anthem gave due respect to all languages and culture within the Anthem. And hence, it became our Anthem," he said.
There should be no attempts to make an inclusive India into an exclusive one as "all will suffer because of such short-sighted folly," he said. The veteran actor signed off hailing Tamil language, Tamil people and the Indian nation.
This came in the backdrop after, Shah on Saturday had pitched for a common language
for the country and said it is Hindi which is spoken the most and that it can unite the whole country. The home minister had also said efforts will be made to expand Hindi to different parts of the country and asked everyone to use their native languages as much as possible.
His remarks, however, drew sharp reactions among opposition parties, especially in Tamil Nadu where all of them including ruling AIADMK rallied against Shah's statement.
Kamal Haasan, who was similarly candid in July after a draft of the National Education Policy required school children in southern states to learn Hindi, also declared that Tamil Nadu would fight harder than it did in the 2017 Jallikattu protests.
(With agency inputs)