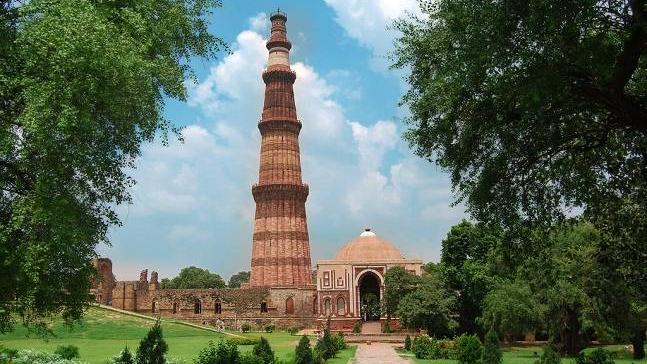 No excavation ordered in Qutub Minar, says ministry of culture
The Ministry of Culture has ordered excavation and iconography of idols at Qutub Minar in Delhi after claims were made that the ancient monument was built by a Hindu king Raja Vikramaditya and that Hindu idols were found there.
The Ministry of Culture has denied ordering excavation at Qutub Minar in Delhi after reports saying so emerged following the visit of the secretary of the ministry, amid claims of Hindu idols being found there and demands for renaming it as a Hindu monument.
Secretary of the Ministry of Culture, Govind Mohan, had conducted a site visit along with officials of Archaeological Survey of India (ASI) who said that excavation had not been done at the monument since 1991.
An Indian Express report said that the ASI has been asked to conduct the iconography of idols at Qutub Minar. Visitors would have to be give detailed information on Hindu and Jain idols located in the complex through appropriate signboards.
Earlier, after the secretary's site visit, reports had emerged that the ministry had ordered excavation too at the site.
Culture minister GK Reddy denied such reports. "No such decision has been taken," he said according to a report in India Today.
There have been numerous claims of the 12th century monument being a Hindu one, with demands being made to rename it as such.
ASI's ex-regional director Dharamveer Sharma has claimed that Qutub Minar was not built by Qutb al-Din Aibak but by Raja Vikramaditya to study the direction of the sun.
Idols of Lord Narsingha (1200 years old), Lord Ganesha and Lord Krishna were claimed to have been found inside Qutub Minar.
Also read: Using court cases, Hindutva forces plan to keep communal pot simmering
The Vishwa Hindu Parishad (VHP) had claimed that Qutub Minar was actually 'Vishnu Stambh' and the structure was built with materials obtained after demolishing 27 Hindu-Jain temples. Several Hindu groups have staged protests, chanted Hanuman Chalisa and demanded renaming of Qutub Minar to Vishnu Stambh.
Similar claims have been made over the Gyanvapi mosque adjacent to the Kashi Vishwanath temple in Varanasi and Shahi Idgah mosque in Mathura, which is claimed to be built on Lord Krishna's birthplace.
A BJP leader had also sought the opening of 20 sealed "rooms" inside Taj Mahal to look for the possible presence of idols of Hindu gods, but his petition was dismissed by the Allahabad High Court. The monument, built by Shah Jahan in memory of his wife Mumtaz Mahal, is also claimed to be an ancient temple dedicated to the Hindu god Shiva and named Tejo Mahalaya, built by a Hindu ruler.