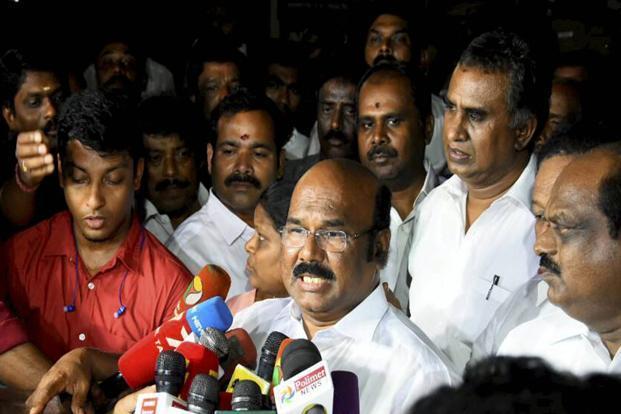 A day after actors Rajnikanth and Kamal Hassan hinted at a tie-up for the welfare of Tamil Nadu, All India Anna Dravida Munnetra Kazhagam (AIADMK) minister D Jayakumar on Wednesday (November 20) said no one can topple the ruling AIADMK government.
Addressing the reporters, the fisheries minister said the actors can join alliance with other actors also but cannot reach closer to AIADMK vote bank in the state.
Also read: Kamal Haasan proposes tie-up, Rajinikanth says ready if needed
Stressing that their statements are an "illusion" and AIADMK is not against any of them, he said, "They are creating an illusion by saying they will enter into politics for some time now, but no effort has been taken. Let actor Haasan, Rajinikanth join hands and also include actor Vijay but they cannot dissolve our AIADMK government."
Advertisement
Pointing out that anyone can enter into politics but coming to power is questionable, the minister said, "DMK should be the one worried about these statements." "Parties like AIADMK need not worry. We have been doing our best for the people, we are sure that our party will withstand beyond these," he added.
Also read: To BJP or not: Rajinikanth's dilemma over political stance
Backing the statements of Jayakumar, Tamil Nadu deputy chief minister O Paneerselvam also said that, "Let they join hands and form an alliance, no one can dissolve AIADMK government," he concluded.
Earlier, in a press conference, Makkal Needhi Maiam (MNM) chief Kamal Haasan expressed his willingness to partner with his four-decade old cinema colleague, he made it clear he would do so "only if required" and for the sake of Tamil Nadu.
"My friend Rajinikanth and I are of the same opinion that if need be all hands should join for the sake of Tamil Nadu and we are no exception," he told reporters here, "That is our attitude, we mean it.. we have come here not just to do politics but to make a better Tamil Nadu," the actor-politician added.
He, however, said their statements on Tuesday should be "carefully" looked into. The MNM founder also thanked his fans for the support and promised to work for the well-being of the people even before he comes into power.
These remarks comes days after Rajinikanth made a statement about AIADMK government at an event to mark Haasan's 60 years in the cinema industry.