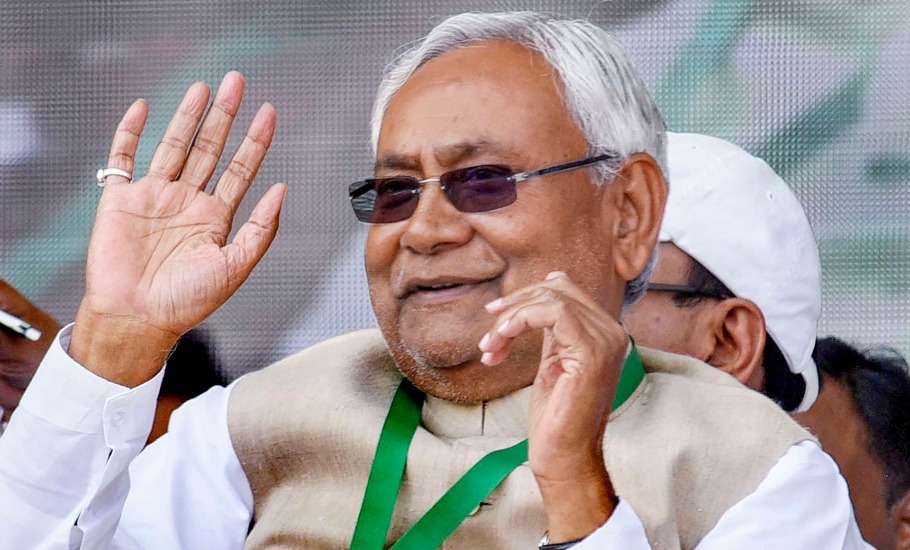 Nitish supports farm bills, says Opposition creating "misunderstanding"
Even as farmers, peeved over the lately-passed agriculture bills, are gearing up for nationwide agitations, Bihar Chief Minister Nitish Kumar has called the protests "completely unnecessary" while supporting the legislations.
Speaking to reporters on Thursday (September 24), Kumar, accused the Opposition of creating "misunderstanding" on the bills.
"Some people are saying anything on the two farm bills without having any knowledge about them," he said.
He claimed that Bihar has benefited after his government successfully repealed the Agriculture Produce Market Committee (APMC) Act in 2006 and rehabilitated people who lost their livelihood as a result, in government jobs.
The Farmer's Produce Trade and Commerce (Promotion and Facilitation) Bill, 2020, the Farmers (Empowerment and Protection) Agreement of Price Assurance and Farm Services Bill, 2020, and the Essential Commodities (Amendment) Bill, 2020, have been passed by both Houses of Parliament and await the nod of the President to become laws.
Even as farmers fear the new bills will give an upper hand to corporates and do away with arthiyas (middlemen), Kumar said the absence of mandis will not inconvenience agriculturists. He said the new bills, on the other hand, were in the interest of farmers and will enable them to sell their produce to anyone.
He said the Primary Agriculture Credit Societies in Bihar – the nodal agencies for procuring foodgrains from farmers – have been immensely successful.
His claim was rebutted by state Opposition leader Tejasvi Yadav who said the state has not achieved a single procurement target.
While opposition parties including the Congress and RJD slammed Kumar for supporting the bills, in a statement that contradicted the JD(U) chief's stand, the party's general secretary wanted the NDA government to guarantee the Minimum Support Price (MSP) for farmers. Farmers fear, they will lose rights over the MSP fixed by the government once private players enter the market and the new legislations are enforced. Tyagi also demanded a provision to make the purchase of produce below MSP a punishable offence for corporates.
Congress spokesperson Randeep Surjewala asked Nitish Kumar to either guarantee a MSP for farmers in the new bills or quit the NDA if he really cared for them.
Taking a dig at Kumar, Congress leader Jairam Ramesh said the abolition of the APMC led to the deterioration in public infrastructure, created poor procurement process and did not change the state of small and marginal farmers who still continue to sell their produce to village middlemen.