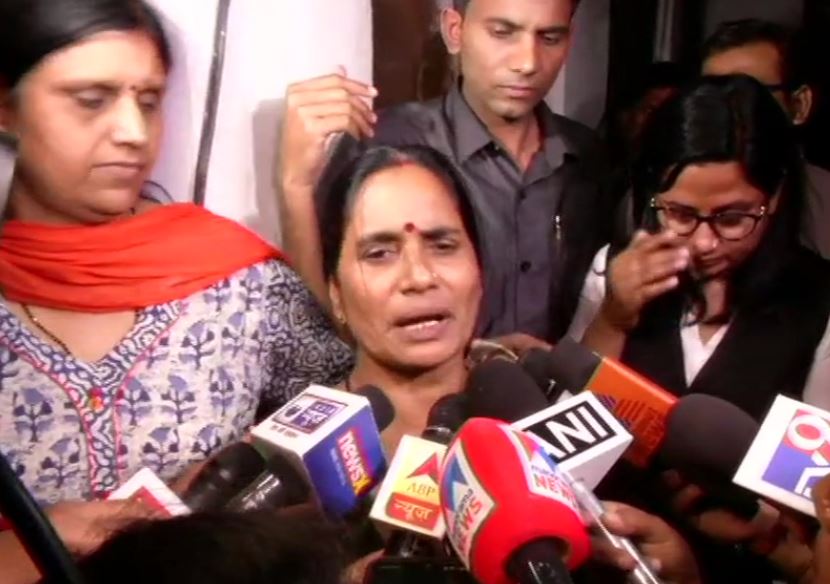 Nirbhaya has got justice, women will feel safer now: Asha Devi
It was a long wait for Nirbhaya's mother, but she persevered till she saw the four men, who had raped and killed her 23-year-old daughter walk the last mile, to the gallows.
Minutes after the four convicts in the gang-rape and murder case were hanged in Tihar jail on Friday (March 20), Nirbhaya's mother who had spent her last seven years, running from pillar to post, from one court to another, said "justice has been finally done."
Talking to reporters at her house on Friday morning, Asha Devi she said that justice was delayed, but not denied, adding that they would continue their fight for justice for India's daughters.
Related news: Nirbhaya convicts didn't sleep, had no last wish before hanging
"This is the first time justice has been given to a rape victim. We dedicate today's day to all the women of the country. I would thank everyone involved for this," she said.
"We will request the Supreme Court to issue guidelines so that no one can adopt delaying tactics in such cases in future," she added.
She said that women will definitely feel safer after this execution.
For the past few months, the agonised and disappointed face of Devi has been a symbolic reminder of the brutal nature of the crime, every time justice was delayed, especially when the convicts repeatedly challenged judgement after judgement, with their lawyers discovering new ways to circumvent the law, and get stays on the execution.
Thursday was not one of those days, when the Supreme Court, lashed out at three of the four convicts, who in a last-ditch attempt urged the top court to stay their execution.
Asha Devi said, the first thing she did after returning home on Thursday was to hug her daughter's photo.
"I want to thank everyone – the judiciary and the government for this. The courts proactively dismissed all petitions. The country was ashamed in 2012," she said.
Nirbhaya's father Badrinath Singh, who waved victory sign after the news of the execution was announced said, "Today is our victory and it happened because of media, society and Delhi police. You can understand what is inside my heart by my smile."
Related news: Will execution of Nirbhaya convicts help reduce crimes against women?
"Our wait for justice was painful and agonising. We appeal for observing this day as Nirbhaya Nyay Diwas (day of justice)," he added.