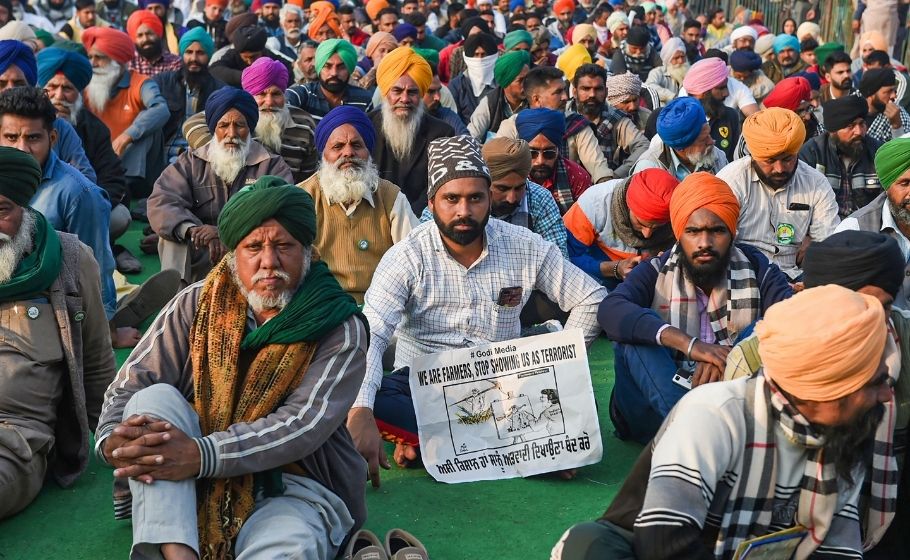 NIA issues notice to farmers' protest activists for 'Khalistani' links
Even as the deadlock over three farm laws continues, the National Investigation Agency (NIA) has issued notices to dozens of Punjabi and Sikh activists taking part in the farmers' protest in connection with an FIR registered against US-based outfit Sikhs For Justice (SFJ) -- a pro-Khalitani organisation based out of the US.
Even as the deadlock over three farm laws continues, the National Investigation Agency (NIA) has issued notices to dozens of Punjabi and Sikh activists taking part in the farmers' protest in connection with an FIR registered against US-based outfit Sikhs For Justice (SFJ)—a pro-Khalistani organisation based out of the US.
The number of people who received such notices is expected to be more than 40 and the number of people summoned continues to rise.
The NIA had filed a First Information Report (FIR) on December 15, 2020 in Delhi against three — Gurpatwant Singh Pannu from the United States, Paramjit Singh Pamma, who is based in the United Kingdom and Hardeep Singh Nijjar of Canada. Pannu heads the SFJ.
The FIR reads: "The central government has received information that Sikhs for Justice an 'Unlawful Association under the Unlawful Activities Prevention Act (UAPA) and other Khalistani terrorist outfits, including but not limited to Babbar Khalsa International, Khalistan Tiger Force and Khalistan Zindabad Force along with their frontal organisations have entered into a conspiracy to create an atmosphere of fear and lawlessness and to cause disaffection in people and to incite them towards rising in rebellion against the Government of India."
The investigation agency has issued notices to the president of Lok Bhalai Insaf Welfare Society (LBIWS) Baldev Singh Sirsa and film artist turned activist Deep Sidhu's brother Mandeep Singh.
Some Punjabi writers, activists, artists, journalists too have gotten the notices. Those who have been summoned include Jalandhar-based writer and commentator Balwinder Pal Singh, journalist Baltej Pannu, Akali leader Parmjit Singh Akali, Palwinder Singh of Moga, Nobeljit Singh of Hoshiarpur, Sikh Youth Federation Bhinderwala (SYFB) vice president Ranjit Singh Damdami Taksal, Surinder Singh Thikriwala, and others Sikh activists based in Amritsar, Ludhiana, and Hoshiarpur mainly.
Also read: Haryana farmers' anger foils BJP-JJP leaders' public meeting plans
'Targeted for helping protests'
The Samyukta Kisan Morcha (SKM) delegates said transporters who had given their buses to ferry people to and from the protest sites were being targeted by the NIA. Besides, some cable channel operators too have been sent notices. The NIA has asked all the people, who have been sent summons in connection with the farm law protests, to appear at its headquarters in New Delhi.
"Large amounts of funds thus collected are being sent to pro-Khalistani elements based in India through NGOs to incite impressionable youth to undertake terrorist acts and strike terror in the people of India," the FIR reads.
Baldev Singh Sirsa told The Federal that the government is now using NIA to disrupt the protest. "After using every single trick and even approaching the Supreme Court, the government could not put an end to our protest. In fact, the number of farmers on the borders of Delhi is increasing every day. So, the NIA summons are meant to scare farmers but we are not scared and we will keep fighting for our rights," Sirsa said.
Actor turned activist Deep Sidhu told media persons, "This (summons) is just a tactic to pressurize me as I have been active for the last several months in support of farmers. Sending the notice to my brother is totally unreasonable. My family just supported me in my activism but never participated in any of the activities. Still, I will not bow down before them."
The Samyukta Kisan Morcha, during the 9th round of talks on January 15, asked the government to stop using NIA to target those who are helping farmers sustain their protest and are making contributions to the kin of those who died during the movement. The union also told the government that it is not connected with the pro-Khalistani group SFJ by any means and therefore, there should be no projection from the government's side that they are involved.
Also read: Khalistani separatists have infiltrated farmers' protest: Centre tells SC
Gurnam Singh Chadauni of Bhartiya Kisan Union (BHU), Haryana, said they are being harassed by the government. "We are protesting peacefully and in a democratic manner. Even the Supreme Court said we are protesting in a Gandhian way. We have not received any money from SFJ. The government tried again and again to malign our peaceful protest, but they have failed every time," he said.
"They are continuing their Khalistani jibe but now the people from every state are here. Are the people from Haryana, Rajasthan, UP, MP and south India also Khalistani? The government is trying to harass us now but we will not give up and continue to fight peacefully," Chadauni added.
Jaspal Singh Manjhpur, an advocate based out of Punjab, said that there are a dozen people who have contacted him after getting similar notices from the NIA. "These persons have not been booked as accused. The notices called persons named to join the investigation as 'witnesses' under a provision of CrPC which authorises police or investigation agency to examine any person supposed to be acquainted with the facts and circumstances of the case," Manjhpur said.
Sikhs For Justice (SFJ), which is banned in India, recently offered a cash prize of $250,000 for anyone hoisting the Khalistani flag at India Gate on January 26 with a promise of legal assistance in asylum in the UK.
Also read: Will not let any vehicle enter Delhi, say farmers as talks fail
On Tuesday, Attorney General KK Venugopal had told the Supreme Court that the government of India has "been informed there is a Khalistani infiltration" in the ongoing farmers' protests on Delhi's outskirts.
Amaan Bali, a Sikh activist, said, "The UAPA is a draconian law used to curb dissent. All people who have been given the notices have either been talking about Sikhs or Punjab and have no relation with SFJ at all."
The focus should be the farmer's movement. The government is trying to distract farmers with random summons and notices stamping people with UAPA."