Natural calamities along with a surge in return of migrant workers is proving to be a double challenge in stemming COVID-19 cases in West Bengal and Assam.
The severe cyclonic storm Amphan that hit West Bengal last Wednesday (May 20) derailed social distancing protocols in many places, intensifying the risk of COVID-19 spread manifold. Defying lockdown norms, people on Tuesday (May 26) thronged the streets even in the containment areas of Kolkata and Howrah — the  two worst coronavirus-affected cities in West Bengal.
There are 286 containment 'A' zones in Kolkata, but even in such areas, like Shobabazar Road, Rabindra Sarani, BB Ganguly Street, Charu Market, Tollygunje, and Ekbalpur, crowded scenes were witnessed. In many such places, even shops were opened as the impact of the cyclone on people's basic needs like food, water and electricity got the better of their fear of COVID-19 infection.
A similar scene of desperation was also witnessed in Howrah, where 88 roads are placed in containment 'A' zone.
Police's repeated appeal through loudspeakers to the people to stay indoors and adhere to social distancing norms did not have the desired results. "Social distancing is everyone's responsibility. Violators will be prosecuted," said N Sudheer Kumar, deputy commissioner of police, central Kolkata.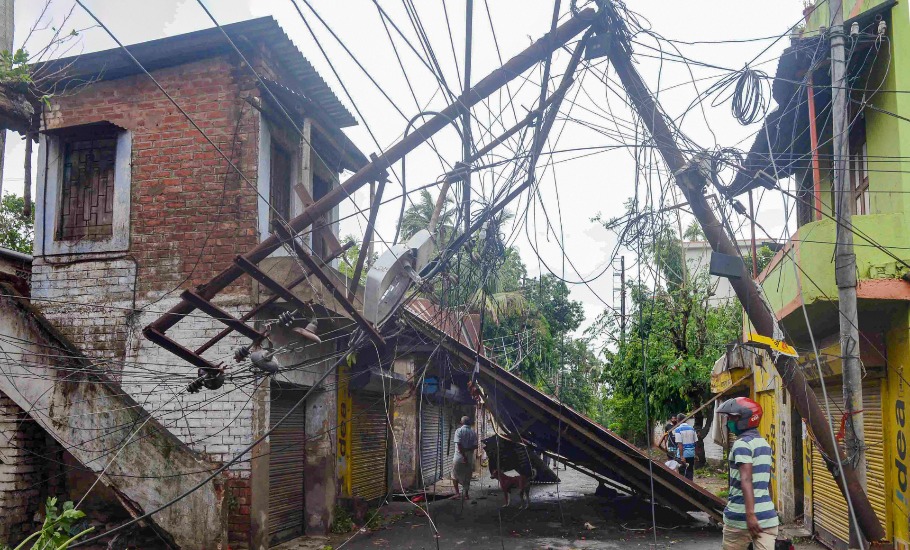 The government had earlier classified the red zones across the state into A, B and C categories based on the sensitivity of the areas. In areas under category 'A', no socio-economic activity is allowed. Category B refers to buffer areas where activities are allowed with certain restrictions, and category C is clean area where almost all activities are allowed with 50 per cent strength.
In the past few days, various parts of the states also witnessed massive protests demanding restoration of utility services such as water and power supply, which remain disrupted in many areas almost a week after the cyclone blew over.
Protocols like wearing masks and maintaining social distancing were not adequately followed as the people took to the streets to protest. The protocols were also violated due to the emergency situation created in the wake of the destruction caused by the cyclone.
"I had to call the local youth to carry my aged and ailing mother down and up the stairs from my three–storeyed apartment to take her to hospital for dialysis, and then bring her back as the lift is not functioning and she cannot walk," said Rumela Choudhury, a resident of Kolkata's Baisnabghata area.
Even in the crammed cyclone relief centres, it has become impossible to maintain social distancing.
Related news: Rebuilding of villages, embankments in Sunderbans begins post Amphan
The impact of the violations would be felt in coming days, said officials of the health department. According to the official figure, over 1.02 lakh asymptomatic people are currently in home quarantine, mostly in the seven worst cyclone-hit districts.
The officials said many were forced to break the home quarantine protocols to escape the wreath of the cyclone, particularly in rural areas. Moreover, due to the disruption in connectivity, people in home quarantine could not be monitored properly.
For instance, two persons in home quarantine in South 24 Parganas and East Midnapore districts could be informed that they tested positive for COVID-19 only on Monday, three days after their results came out, said a health official on the condition of anonymity.
Many accredited social health activists (ASHA), who act as a bridge between the health department and the quarantined persons, are unable to join duty as their houses were also hit by the cyclone.
The state is already witnessing a spurt in new COVID cases. On Monday, 149 new cases were detected, taking the tally of positive cases to 3,816. On Sunday, 208 new cases were reported, the highest ever single-day surge in the state.
What is of greater concern, the officials said, is the detection of cases from rural areas. At least 76 migrant workers, who had recently returned from Mumbai, tested positive. They are all from rural areas of Howrah, the officials added.
"There is already a huge space crunch to quarantine migrant workers who are returning to their villages. Now, we are to make additional space for the cyclone victims," said Animesh Mandal, a member of South 24 Parganas Zila Parishad.
The overall rate of detection of positive cases among those tested is 2.6 per cent in the state, but in case of migrant workers, who have returned to the state during the ongoing lockdown, the rate is 10 per cent.
Five districts of Assam inundated
In neighbouring Assam too, the flood situation has aggravated the COVID-19 crisis. Five districts of the state are inundated, affecting over 30,700 people, and forcing many to huddle together in safer places to escape the deluge.
On Monday, Assam witnessed the highest single-day spike of 156 cases, taking its COVID-19 tally to 548, including 62 recoveries and four deaths. On Tuesday morning, it further escalated to 595.
Assam Health Minister Himanta Biswa Sarma said that things will be difficult with the threat of floods looming large in the coming days. Sarma also asked the people of the state, who are stuck outside, to return before June 10.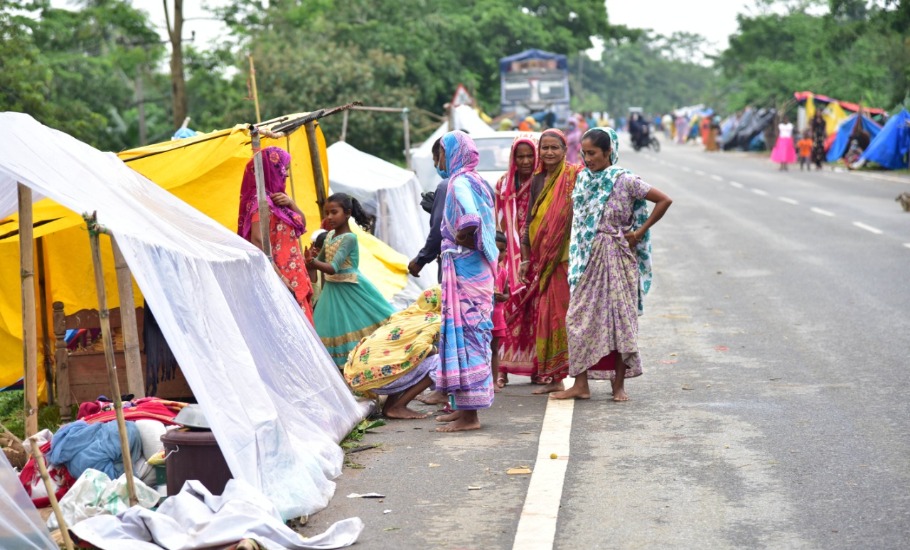 "It would be wiser for the people who are stuck outside the state to return by June 10 so that the state can shift its focus to flood preparations. From Assam's point of view, we want to let the people who want to come before June 10. Then we have 14 days (quarantine) and by June 30, we will be able to close this chapter. In July, we have floods. We don't want to do any rationing. If the airlines want to bring more people, let them bring, however, with prior information," Sarma said.
With around 9,000 people taking shelter in temporary flood relief camps, the situation is likely to worsen further with the meteorological department forecasting more rainfall in the next few days.
Meanwhile, a quarantine centre in Meghalaya's Garo hills too was inundated following the flash floods. A cloud burst had on Monday triggered the flash floods following which the inmates of the facility had to be shifted.