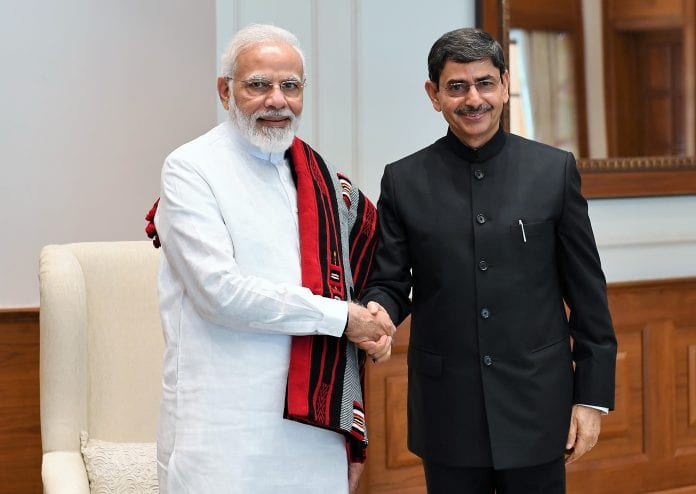 Nagaland Governor RN Ravi, also the Centre's interlocutor for the Naga peace talks, has clarified that there wouldn't be a separate flag and constitution for the community, two key demands that armed Naga group NSCN (I-M) has insisted on during the dialogue with the Centre.
"The Indian national flag and Constitution are the pride of the people of India. The government of India is absolutely clear that there is and shall be only one national flag and Constitution in India. Anyone talking anything contrary is peddling preposterous lies. They are trying to confuse and mislead the people," Ravi said while speaking at the 58th Statehood Day of Nagaland on Monday (November 30).
Taking an indirect swipe at the rebel group, Ravi said the Naga political issue belongs to the people of the community and no single entity can monopolise it.
Advertisement
Also read: Naga group camps in Delhi, says separate flag, constitution must for peace deal
"The traditional village institutions and the tribal bodies are the primary stakeholders in the Naga political issue…They have clearly expressed their mind. They demand conclusion of the endless peace-process without any further delay. They want end of the gun- culture…" he said.
"Being disrespectful to the primary stakeholders is an insult to the people of Nagaland. Any attempt to intimidate or threaten them will invite the wrath of the people and full might of the laws of the land," he added warning that "any misadventure to disintegrate this great nation shall not be tolerated."
The NSCN(I-M) has insisted on a separate flag and constitution. However, the National Naga Political Groups (NNPG), comprising seven other Naga outfits which are also in talks with the Centre, and other civil society groups have said they are open to a solution even if there is no flag and constitution.
In 2015, leaders of NSCN (IM) and Ravi signed a final peace pact. The pact was released by the NSCN (IM) in August this year.
The 2015 agreement laid the ground for the Centre and the Nagas to "share the sovereign power". NSCN (IM), however, alleged that Ravi had "manipulated" the document when he submitted it to the parliamentary standing committee.
Also read: Naga peace deal: Interlocutor's 'tiff' with militant outfit may delay pact
The NSCN (I-M) alleged that Ravi "created imbroglio in the talk process", that he was involved in "mischief", and had said he was a "liability" in the peace talks.
In September this year, NSCN (I-M) held talks with the Intelligence Bureau in Delhi, without Ravi. The Naga outfit insisted on a separate flag and Constitution to take the peace deal forward.