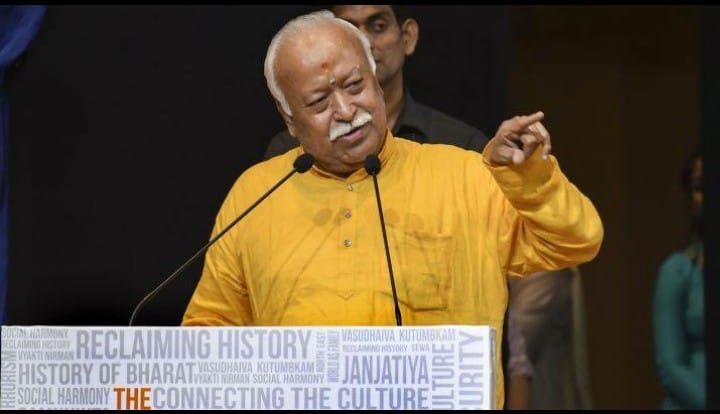 Why look for Shivling in every mosque, asks RSS chief
RSS chief Mohan Bhagwat on Thursday questioned the need to look for a Shivling in every mosque, saying one should not raise a new issue every day, and if there is a dispute, the ruling of courts should be accepted by all.
His comments at the concluding ceremony of the Rashtriya Swayamsevak Sangh's third year officer training camp at Nagpur comes in the wake of Hindu groups claiming worshipping rights at Gyanvapi mosque in Varanasi, situated adjacent to the Kashi Vishwanath temple, citing the finding of a Shivling there.
This is one of several such disputes raised by Hindus claiming worshipping rights to ancient mosques, saying that they were built by Muslim invaders after razing temples that stood in their place.
Bhagwat, however, said that the RSS did not want to pursue any more agitations over temple-mosque disputes, as it had done in the case of the Ram Janmabhoomi-Babri Mosque case in Ayodhya.
"Now the issue of Gyanvapi mosque (in Varanasi) is going on. There is history, which we cannot change. That history is not made by us, nor by today's Hindus or Muslims. It happened at the time when Islam came to India with invaders. During the invasion, temples were destroyed to weaken the fortitude of the people wanting freedom. There are thousands of such temples," he said.
But the Sangh did not want to say anything on this issue, Bhagwat said, adding, "We had said what we had to say on November 9 that there was Ram Janmabhoomi agitation. We joined in it, though it was against our nature, due to some historical reasons, and due to the situation at that time. We completed that work and now we do not want to pursue any more agitations."
Everyone involved in the Gyanvapi mosque-Kashi Vishwanath temple dispute should sit together and find a way with mutual consent, the RSS chief added.
But as this does not happen every time and people approach courts, the "decision of the court should be accepted by all considering the justice system as sacred and supreme," Bhagwat said.
"It is true that we have special, symbolic faith in such places, but one should not raise a new issue every day. Why escalate disputes? As to Gyanvapi, we have certain faith, some traditions, but why look for a Shiv Ling in every mosque?" the RSS chief said.
"Our tradition is the same and some nationalist Muslims have fought with Hindus in many freedom struggles, and they are ideals for the Muslims of our country," Bhagwat added.
Bhagwat said no community should resort to extremism, but also claimed that there has been less "intimidation" from the Hindu side.
Hindus should realize that Muslims are descendants of their own ancestors and their "brothers by blood relation", Bhagwat said.
"If they want to come back then we would welcome them with open arms. Even if they do not come back, it does not matter, we already have 33 crore gods, more will be added….everyone is following their religion," he said. "Everyone should understand and respect the sentiments of each other. There should be no extremism in the heart, in the words or in the work. There should not be words of intimidation from both sides," the RSS chief said.
"Though it is less from the Hindu side. Hindus have maintained a lot of restraint. Hindus have paid a lot of price for this unity, even at the cost of (accepting) the division of the country. Even then such voices (of intimidation) come from their side and no one from their side protests against it," Bhagwat further said.
If there is extremism on any side, it should be criticised, he said, adding that Hindus do object to extremism.
"The Hindu community does not accept any kind of extremism. Hence all kind of people came into the Hindu community (sought shelter from the Hindus), be it the Jews or Parsis," Bhagwat further said.
He also said that the Hindus should "improve their Hindu character" and become more powerful.
A united Hindu community has the potential to create a new world by resolving global conflicts, Bhagwat said.
(With agencies inputs)