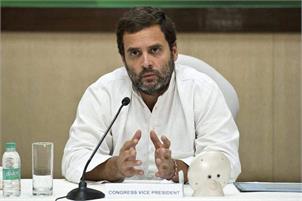 Rahul Gandhi announces big sops
In a big bang election promise, Congress president Rahul Gandhi on March 25 announced that 20% families belonging to the poorest category will be given ₹72,000 each annually as minimum income if his party comes to power. Making the announcement at a press conference, Gandhi said five crore families and 25 crore will directly benefit from the scheme.
Radha Ravi draws flak for Nayanthara comments
Actor Radha Ravi received flak for his distasteful comments on actor Nayanthara. Speaking at the trailer launch of the movie Kulaiuthir Kaalam, Ravi said that he respected Nayanthara for having sustained in the industry for a long time, but later spewed derogatory comments on her personal life, which appeared to amuse the audience. Nayanthara issued a public statement thanking DMK chief Stalin for his swift action on suspending Radha Ravi from all party posts following the outrage on social media.
Kerala academic quits after central varsity curbs PhD topics
Days after the Central University of Kerala issued an order asking PhD students to pursue research only on topics that were of 'national importance,' academic Meena T Pillai has resigned from the board of studies of the institution. Several students and academics have voiced their displeasure at such an imposition. Dr Pillai's resignation has triggered a debate on government's interference in education.
Naresh Goyal steps down as Jet Airways chairman
Jet Airways' founder Naresh Goyal quit as chairman of the company. Goyal and his wife, Anita, left the board of the cash-strapped airline on March 25. The airlines is flying with a debt of over $1 billion, and is barely able to stay afloat.
Body of Christchurch shooting victim returns to Kerala
Remains of the Indian woman shot dead at New Zealand reached Kerala. Ansi Alibava, 23, a student at NZ's Agriculture University, was shot dead at the terror attack on Christchurch Mosque on March 15. Alibava, who hails from Thrissur, moved to the city following her wedding.
SC stays MLA's jail term
The Supreme Court has stayed order on ex-Hosur MLA Balakrishna Reddy's three-year jail term citing lack of evidence. Reddy was being investigated for harming public property and disqualified from his MLA seat following a conviction in the case.
SC seeks EC's views on raising sample survey of VVPATs
The Supreme Court, on March 25, directed the Election Commission (EC) to state, by March 28, if it can increase the number of VVPAT sample survey from one in each assembly segment at present for the upcoming general and Assembly elections. The bench indicated that it wanted the number of VVPATs to be increased, saying it is not a question of casting aspersions but a matter of satisfaction.
India hopeful of selling Tejas to Malaysia
The Indian government hopes that the indigenously developed light combat aircraft Tejas would be of interest to the Malaysian government. The Tejas aircraft will be presented to the audience at Langkawi International Maritime and Aerospace Exhibition, where a team of 50 will showcase its man maneuverability and handling, along with aerobatics.
Intel alert warns of ISIS, al-Qaida attack on Mumbai, Delhi, Goa
The central intelligence agencies warned of an ISIS and al-Qaida attack on Mumbai, Goa and Delhi 'to avenge' the New Zealand shootout at two mosques there. There could be possible attacks on Jewish establishments too.
Sapna Choudhary in news again for BJP links
On March 25, rumours were doing the rounds that she was going to join the BJP. A picture of her meeting Delhi BJP chief Manoj Tiwari was being shared on WhatsApp. The picture was reportedly clicked at a meeting that took place between Tiwari and Sapna before her press conference on March 24. Within hours of UP Congress chief Raj Babbar tweeting that he was welcoming her into the party, Sapna had told the media that she wasn't joining the Congress. She also denied the pictures of her with Priyanka Gandhi Vadra going around were recent.