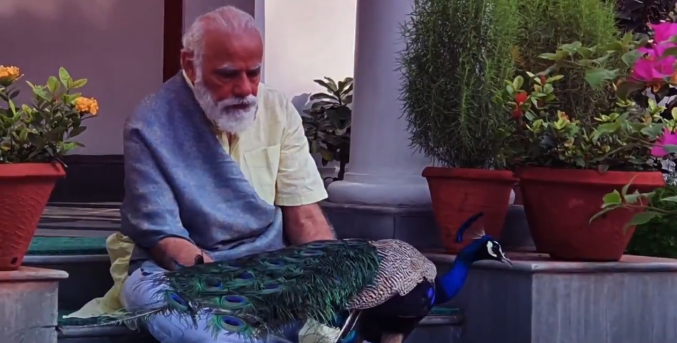 Prime Minister Modi's love for nature is well-known. There was another glimpse of it on Sunday when a video uploaded on social media showed the special bond that he shares with peacocks and peahen that roam freely at his official residence in New Delhi.
The video, a montage of photos and videos, shows him feeding the birds not just outside but even inside the residence. They also accompany him in all their glory — with their feathers spread — as he goes about his morning walk at his 7, Lok Kalyan Marg residence amid the lush-green lawns.
The video was posted with the caption "precious moments" accompanied by a poem in Hindi. He seems to be fascinated by the birds, whom he probably misses when he is away from Delhi.
Advertisement
भोर भयो, बिन शोर,
मन मोर, भयो विभोर,
रग-रग है रंगा, नीला भूरा श्याम सुहाना,
मनमोहक, मोर निराला।

रंग है, पर राग नहीं,
विराग का विश्वास यही,
न चाह, न वाह, न आह,
गूँजे घर-घर आज भी गान,
जिये तो मुरली के साथ
जाये तो मुरलीधर के ताज। pic.twitter.com/Dm0Ie9bMvF

— Narendra Modi (@narendramodi) August 23, 2020
In a tweet on January 17, just before leaving on an official visit to Maharashtra and Gujarat, he put a social media post with pictures of peacocks at his official residence saying, "Will see these friends at 7 LKM (Lok Kalyan Marg) after three days."
It is not just peacocks, Modi cares for other birds, too. He is said to have kept chabootras for birds to rest and even make nests.