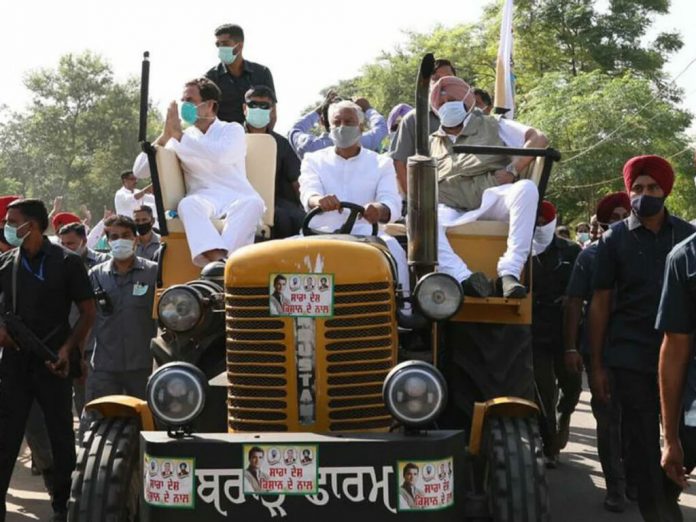 Rahul Gandhi, who was mocked for sitting on cushioned seats during an anti-farm laws tractor rally in Punjab on October 6, hit back by accusing Prime Minister Narendra Modi of "wasting" thousands of crores on a set of two custom-made Boeing airplanes that "did not just have a cushion but a whole lot of luxury beds for his comfort."
The Congress leader questioned the need to spend such a large amount of money "when China is at our borders" and the government is rushing weapons, ammunition, fuel, food and winter essentials to eastern Ladakh. He suggested PM Modi wanted the planes, one of which is Air India One, because "his friend Donald Trump (the United States President) has one (Air Force One)".
"Why don't you question them about this? It is strange that nobody is asking about the Boeing 777 purchased for this whopping amount but everyone is quick to point to a gaddi (cushion)," Rahul said in Punjab's Patiala on October 7 — the second day of this three-day rally.
Related news: Hardeep Puri's dig at Rahul: Cushioned seats on tractor is 'protest tourism'
"On the one hand, Prime Minister Modi has bought two aircraft worth ₹ 8,000 crore. On the other, China is at our borders and our security forces are braving harsh winters to protect (us)," he said, adding that the cushions had been placed there by well-wishers.
His comment triggered an immediate response from sources in the government, which pointed out that the procurement process for the planes was started under the Congress-led UPA administration and said it had simply concluded the purchase.
Gandhi has been a vocal critic of the Narendra Modi government on several fronts, including its handling of the China border row; this morning the Congress leader declared the PM is "only obsessed with his image" and had given away 1,200 sq km of territory to China.