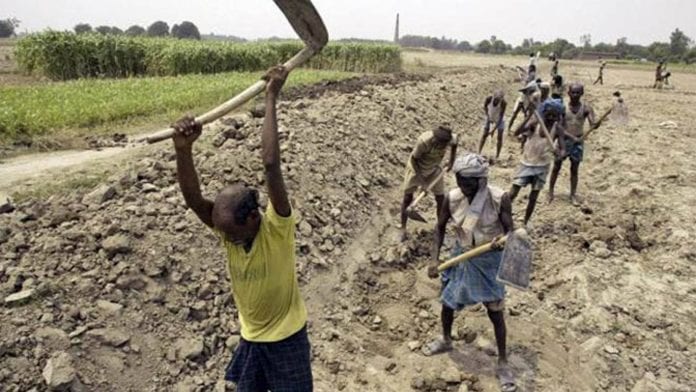 Workers under the Mahatma Gandhi National Rural Employment Guarantee Act (MGNREGA) are now required to mark attendance twice a day with onsite, geo-tagged photos through the National Mobile Monitoring System (NMMS) app. Is this meant to discourage them from demanding work under the Act?
From January 1, 2023, the Centre has made this procedure mandatory across all MGNREGA scheme worksites. In the budget presented a month later, the allocation for MGNREGA was reduced to Rs 60,000 crore, ­­39% less than the expenditure last year.
Demand for MGNREGA work is likely to be higher this year because economic growth is expected to be slower than last year, and the monsoon will likely be in deficit because of the El Nino phenomenon in the Pacific though the Met Department has forecast normal monsoon, with total rainfall at the lower end of the reference range. For MGNREGA expenditure to remain within the outlay, there should be less demand for work, and NMMS might be one way of achieving that outcome, social activists say.
Also read: Explained: 'Digital push' is a nightmare for MGNREGA workers
NMMS a disaster
"Whether it is a policy goal is not for me to answer," says Sudha Narayanan in a Zoom discussion with The Federal, when told the Prime Minister Narendra Modi was not enthused about the scheme and had earlier said it was a monument to the government's failure to provide jobs. 
Narayanan is a Chennai-based researcher at the International Food Policy Research Institute (IFPRI) and has evaluated MGNREGS through studies and surveys since it was nationally rolled out in April 2008. She thinks NMMS is a "disaster" because it denies wages for work done if the photos are not uploaded, which can happen because of poor connectivity, a common problem in rural, and especially tribal, areas.
The rollback of NMMS is one of the demands of MGNREGA workers, who have been protesting for 50 days (as of 13 April) at Delhi's Jantar Mantar. A batch from a state protests for a week and then passes on the baton to another batch from another state. So far workers from Bihar, Uttar Pradesh, Rajasthan, Chhattisgarh, Jharkhand, West Bengal, Karnataka and Gujarat have participated. That they protest under the harsh April summer sun, sleep at night in a shelter for the homeless in East Delhi and ate donated lunches (when I visited the site), shows that the issues agitating them are pressing indeed.
NMMS is supposed to be "improving citizen oversight and increasing transparency in MGNREGA works", but it's hard to see how this is achieved. How can any group of people monitor what is happening at 2.3 million worksites across the country? And it's not clear what purpose NMMS serves. MGNREGA workers are paid a piece rate for output and not for time worked. Earlier, attendance was marked on job cards, and every worker knew the number of days they had worked, the amount of work done and the payment due. Now they don't have a record.
Women's participation
Uniquely, MGNREGA encouraged women's participation. The share of active women workers is 50.53 percent, which is more than the MGNREGA requires (a third) and higher than the share of rural women working or seeking work (24.7 percent in 2019-20). Before NMMS, they would report for work early, achieve their targets, and return to household chores or other occupations like vending vegetables. With attendance to be marked twice a day, they lose this flexibility.
Watch: Centre is deliberately attempting to end MGNREGA scheme, say workers
Earlier, works were geo-tagged and there were 'before' and 'after' pictures to assess the work done. The Act provides for social audits by third parties as a monitoring and compliance mechanism. But the government does not release enough funds for social audits, says Rajendran Narayanan, who teaches mathematics at Azim Premji University and is a founding member of LibTech India, an organisation that works on transparency and accountability in welfare schemes.
Aadhaar woes
The other issue that bothers MGNREGA workers is the linking of bank accounts to Aadhaar. Narendra Das, a social worker in Surguja, Chhattisgarh, says MGNREGA workers either don't have the documents necessary to obtain the biometric identification number, or get put off by the process of getting their KYC credentials verified. Some of the protesters I met said they had to walk 7, 10, even 30 km to banks to inquire whether their wages have been credited. Upon reaching the bank they find that the computer is down. Because of mistakes in linking bank accounts to Aadhaar there are cases of MGNREGA wages being wrongly credited.
As per Sudha Narayanan, about 46 per cent of MGNREGA workers will not get paid because of Aadhaar linkages.  She says technological interventions in MGNREGA are often meant to allay the anxiety of the administrators and are "solutions in search of a problem".
Sudha Narayanan says corruption is an issue in MGNREGA, but technology often helps those who can game the system, especially contractors who collude with local officials. But MGNREGA has created durable assets, she says, contrary to the impression that it is a make-work programme. Structures to stop sea water ingress, farm ponds for rainwater harvesting and ground water recharge, ridge to valley water conservation works and bunds to prevent flooding have made agriculture more resilient.
Also read: MGNREGA demand dip: Sign of better employment rate or rising rural distress?
Safety net

MGNREGA funds are also used to improve the productivity of small farms owned by Scheduled Caste and tribal persons by levelling them, building dirt tracts to connect isolated farm clusters to the main road, mangrove restoration and so on. Narayanan says the social and economic payback from MGNREGA is multiple times the cost.
Of late the list of eligible projects has been expanded to include the construction of toilets and low-cost housing. This skews the expenditure more towards material and upsets the 60:40 ratio that the Act envisaged between wages and material.
Overall, Sudha Narayanan says, MGNREGA has performed a safety net function. It was particularly useful for migrants returning to villages from cities during the initial waves of the Covid pandemic. They could fall back on MGNREGA work. Just as expenditure on the army is not considered a waste when it does not fight a war, the MGNREGS apparatus is needed to cushion people during shocks. It should be primed to cope with contingencies rather than allowed to wither away.
App meant to help workers: Govt official
To get the government's perspective, The Federal spoke to Amit Kataria, Joint Secretary (Rural Employment) in the Ministry of Rural Development. He said the NMMS app is meant to quicken wage payment as the marking of attendance is instantaneous. 
He agreed that sifting through the thousands of photos uploaded daily is humanly impossible, but software is being developed to match the photos with Aadhaar identities. Kataria is confident that the app will eliminate ghost workers. It will also prevent the substitution of manual labour with earth-moving machines, he said. 
Kataria admitted there is poor connectivity in some pockets. But it is not a widespread problem, he added. Social audits are the top priority, he said. 
He asserted that the government is not trying to discourage workers from demanding MGNREGA work with the intention of keeping the expenditure within the Budget outlay of Rs 60,000 crore.