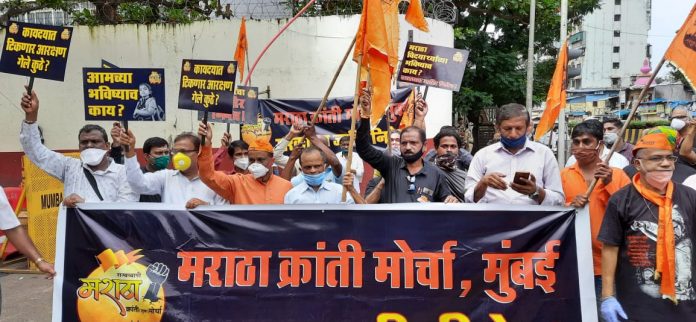 The Marathas in Maharashtra are furious after the Supreme Court's recent decision to put a stay on reservation to the community. To make their voices heard, about 50 representatives of different organizations met at a round-table conference in Kolhapur on Wednesday (September 23). The Marathas passed a resolution putting up 15 demands of the community.
Their first and foremost demand is that the state government owns the primary responsibility of fighting the Marathas' cause and ensure they get their right to reservation. This effectively means more pressure on Chief Minister Uddhav Thackeray to do something "meaningful and effective".
The 15 demands of the Maratha community are as follows:
Advertisement
1.     The responsibility to vacate the Supreme Court stay on reservation lies with the state government.
2.     The state should return fees of community students from this financial year.
3.     For the time being, Marathas should get the benefit of 10% reservation offered by the Centre to economically weak sections (EWS).
4.     The mega recruitment drive initiated by the state government after the SC stay should be suspended.
5.     Saarthi Sanstha should get a financial allotment of Rs One thousand crore.
6.     Rs One thousand crore for Annasaheb Patil Arthik Vikas Mahamandal.
7.     Hostels in every district for boys and girls belonging to the Maratha community.
8.     Withdraw recent cases filed against agitators demanding reservation.
9.     Financial aid for those who died fighting for the cause of reservation for Marathas.
10.   A concrete loan-waiver plan for farmers and rehabilitation package for families of farmers who committed suicide.
11.   Implementation of Swaminathan Committee report.
12.   Immediately restart work on building Shivaji Smarak in Arabian sea.
13.   Loan waiver for all farmers in state.
14.   Act immediately on punishing the guilty in Kopardi rape-murder case.
15.   Allot Rs 500 crore for conservation of forts in the state.
On September 9, a three-judge bench of the Supreme Court referred a group of petitions challenging the Maratha reservation law to a Constitution Bench. The court said the Maratha quota, meanwhile, will not apply for admissions and appointments made in the State for 2020-21. However, the postgraduate admissions which have already been made will be left unaltered.
The appeals challenging the Maratha quota law contend that the statute provides 12% to 13% quota for the community in Maharashtra. This has breached the 50% cap declared by a nine-judge Bench of the apex court in 1992.
Meanwhile, the state government got into action mode nearly two weeks after the SC stay and filed an application seeking vacation of this order in the apex court on Monday (September 21). The state government has pleaded that the stay was unjust and that the state did not get a fair opportunity to argue the merits of the move.