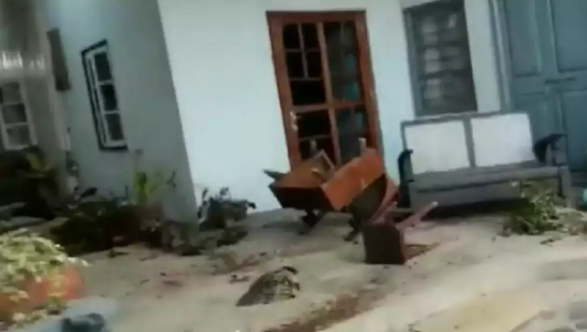 The total curfew that prohibited the movement of any person outside their homes, was relaxed for three hours – from 7 am to 10 am – in Manipur's Churachandpur district on Sunday (May 7) morning to allow the people to buy essential items such as medicines and food, the government said in a notification.
The decision was taken after the situation improved in the district in the wake of fierce clashes between the majority Meitis and tribals.
Also read: NEET-UG postponed in violence-hit Manipur, announces NTA
On Saturday, the curfew was relaxed for two hours, from 3 pm to 5 pm.
"With the law and order situation improving in Churachandpur district and after talks were held between the state government and various stakeholders, I'm pleased to share that the curfew will be partially relaxed as per the details shared below (sic)," Chief Minister N Biren Singh tweeted on Saturday night, sharing a copy of the notification.
The curfew was imposed on May 3 after violent clashes broke out between tribals and members of the majority Meitei community, which has so far displaced thousands of people and killed at least 54.
The notification issued by Churachandpur district magistrate Sharath Chandra Arroju said, "Subsequent relaxations shall be reviewed and notified based on assessment of the prevailing law and order situation."
On Sunday, Governor Anusuiya Uikey in an official statement urged people to maintain law and order situation in the state and shirk the feeling of insecurity.
She assured residents that security forces including the Army, the Rapid Action Force and the Central Reserve Police Force are at their service and will provide immediate assistance when in need.
Also read: NEET-UG postponed in violence-hit Manipur, announces NTA
"I would like to inform you that the Army, RAF, Assam Rifles, CRPF, BSF, Police and administrative officers of the state, and people's representatives are continuously working in the state. Security forces are patrolling all the areas and take care of your safety. The security forces are ready and always at your service to deal with any disturbance," she said.
The governor also asked people to dial the 24-hour control room of the army – Number 9233637014 – to report any kind of nuisance, case of spreading fear, looting, damage to property or harm around them.
Also read: CRPF asks Manipur-origin personnel on leave to report to nearest base
The clashes broke out after a Tribal Solidarity March was organised in the 10 hill districts of the state to protest against the Meitei communitys demand for Scheduled Tribe (ST) status.
Meiteis account for about 53 per cent of Manipur's population and live mostly in the Imphal valley. Tribals — Nagas and Kukis — constitute another 40 percent of the population and live mostly in the hill districts.
(With inputs from agencies)