With NDRF teams deployed and evacuations started, Maharashtra and Gujarat are set to face cyclone Nisarga, which is very likely to intensify into a severe cyclonic storm over the next 12 hours and cross the two states on Wednesday (June 3) afternoon.
The two western states, which are among the worst coronavirus-affected states, opened new fronts to tackle the fallout of the storm which is expected to make a landfall close to Mumbai on Wednesday. They are likely to be impacted most by the cyclone.
Prime Minister Narendra Modi spoke with the chief ministers of both the states on Tuesday and assured them of all help from the Centre. He also spoke with the administrator of Daman and Diu, Dadra and Nagar Haveli, Praful K Patel, the Prime Minister's Office said.
Advertisement
According to the India Meteorological Department (IMD), cyclone Nisarga is very likely to intensify into a "severe cyclonic storm" over the next 12 hours and cross Maharashtra and South Gujarat coast between Harihareshwar and Daman on Wednesday afternoon.
As many as 10 teams of the National Disaster Response Force (NDRF) have been deployed in parts of Maharashtra for rescue operations in view of the cyclonic storm, Chief Minister Uddhav Thackeray said.
"Out of the 16 NDRF units, 10 have been deployed for rescue operation during the cyclone, and 6 SDRF units are in reserve," the Chief Minister's Office said in a graphic shared on Twitter. It said precautions will be taken during the relief and rehabilitation works, considering prevalence of COVID-19 in the state.
Related news: Cyclone Nisarga: 33 NDRF teams deployed in Maharashtra, Gujarat
Elaborating on the government's preparedness for the approaching cyclonic storm, the CMO tweeted that an alert has been issued for Mumbai city and suburbs, Thane, Palghar, Raigad, Ratnagiri and Sindhudurg districts.
Meanwhile, Thackeray's office said that those staying in kuccha houses are being moved to safer places. "Slum-dwellers in the Mumbai Metropolitan Region, particularly those living in low-lying areas, have been instructed to evacuate," it said.
The CMO said that non-COVID hospitals are being made available to deal with any medical emergency. The state government is also taking measures to prevent power outages and precautions in chemical industries and the nuclear power plant in Palghar and Raigad districts, it said.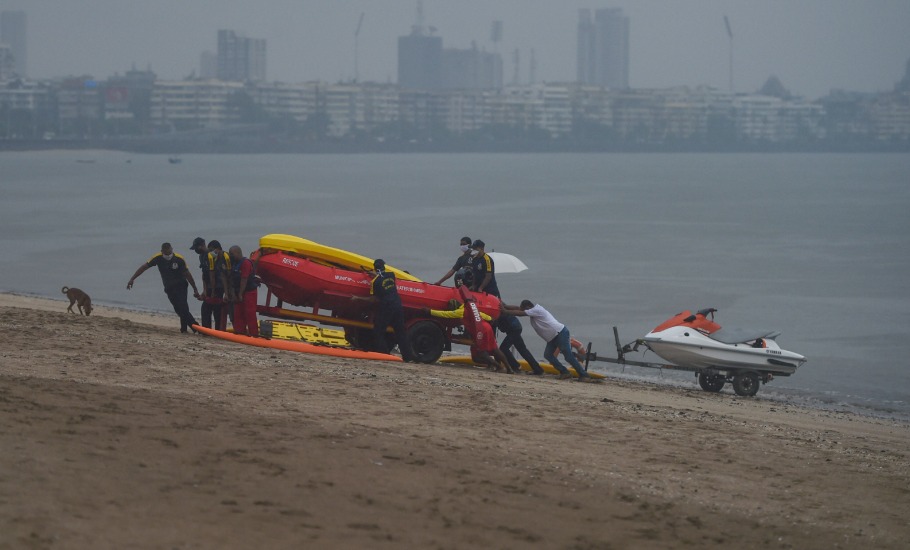 Town planning authority MMRDA on Tuesday said that nearly 150 patients at its COVID facility in Bandra Kurla Complex (BKC) in Mumbai have been shifted to another location as a precaution in the wake of the cyclone.
"The impending threat of Nisarga Cyclone is upon Mumbai. Although the COVID-19 hospital can sustain strong winds of up to 80-100 km per hour, however, with human lives at stake, as a precautionary measure, all the patients (about 150) from the hospital are being shifted by BMC," the Mumbai Metropolitan Region Development Authority (MMRDA) said in a tweet.
The MMRDA has set up a 1,008-bed facility, where nearly 150 patients are taking treatment.
Mumbai hasn't "experienced a serious cyclone landfall since 1891," according to Adam Sobel, professor of atmospheric science at Columbia University. The city experienced severe floods in 2005, and more recently in 2017 and 2019, but none of them were due to cyclones.
In adjoining Gujarat, the state administration has started evacuating over 78,000 people from four districts close to the coastline, officials said on Tuesday.
A total of 13 NDRF teams and six of the State Disaster Response Force (SDRF) have been deployed at different locations, Relief Commissioner Harshad Patel told reporters in Gandhinagar. As many as 78,971 persons living near the seashore in Valsad, Surat, Navsari and Bharuch districts are being shifted to safer locations, he said.
Related news: Cyclone Nisarga: Amit Shah holds review meeting with NDMA officials
Patel said the administration has identified 140 buildings which will be utilised as temporary shelters for the evacuees in these four districts. "In view of the coronavirus pandemic, rescue teams have been given PPE kits and asked to take precautionary measures at the shelters, such as maintaining social distancing and providing masks to the evacuees," said Patel.
In a relief to people living near the shore, the IMD indicated the cyclone may not make a landfall on the Gujarat coast. However, it will have an impact in the form of gusty winds coupled with heavy rainfall in the coastal belt, Gujarat's MeT centre director Jayanta Sarkar said.
"As per the present predictions, the cyclone will make a landfall near Alibaug (near Mumbai). Though the cyclone will not cross south Gujarat, it will leave its impact in the form of gusty winds and heavy rainfall," said Sarkar.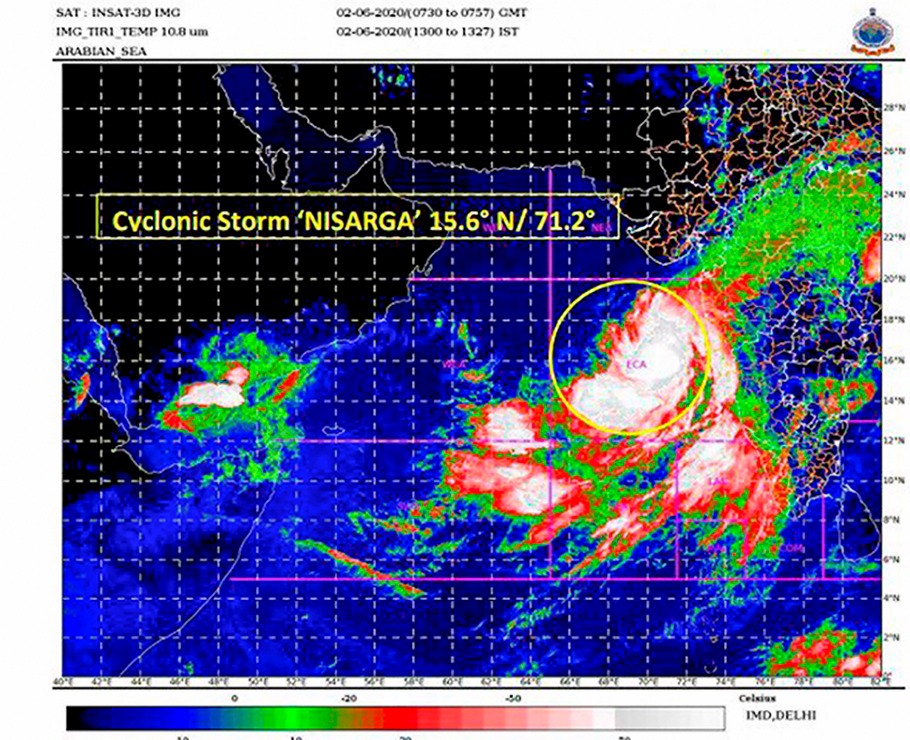 Meanwhile, the telecom department has also taken stock of the readiness and arrangements made by telecom companies for ensuring network connectivity in the two states. Infrastructure providers have deployed additional rescue teams on standby mode for all major districts which are likely to get impacted, said an official.
Aviation regulator DGCA too has issued a circular to airlines and pilots, reiterating its guidelines on the adverse weather operations. "Fuel uplift calculation should be done very judiciously and it should take into account en route and destination weather and trend forecast," the Directorate General of Civil Aviation (DGCA) said.
In another guideline, the DGCA stated: "Correct use of weather radar is very important, a common error is not having the weather radar in correct mode and range during take-off."
Operations at the Mumbai airport, which has been handling 50 domestic flights daily since May 25, are likely to be significantly affected on Wednesday due to the cyclone. Budget carrier IndiGo has already cancelled 17 flights to and from Mumbai, and will operate only three flights from the city on Wednesday.
(With inputs from agencies)