With just two days to go for the bilateral summit between Prime Minister Narendra Modi and Chinese President Xi Jinping at Mahabalipuram in Kancheepuram, tourists' entry into the three heritage monuments have been completely stopped and it will open only after October 15.
According to Archaeological Survey of India (ASI), with the powers conferred to them, the entry of the public, including tourists, is closed from Tuesday (October 8) and visitors will be allowed only after the completion of the bilateral summit.
"Though the meet is happening between October 11 and 13, restriction for visitors to the monuments will be in the place till October 15," officials associated with the ASI said.
The restriction will be be imposed in three places — Shore temple, Five Rathas, Krishna's butter ball and Arjuna's Penance, that were tentatively fixed for Modi and Jinping's meet.
Also read | India, China need each other; Chennai meet to reinforce that
However, as there were no official announcements till Tuesday morning, hundreds of tourists, including foreigners, were left disappointed. "Had we known this before, we would have avoided this place and would have had something in our itinerary list," said S Velmurugan, a native of Vellore.
"We know that bilateral summit is happening here, but we did not know that the place will be shut due to security reasons. Now, my only daughter, who was eager to see these monuments, is disappointed and we have to wait until the next festival holiday to bring her here again," he said.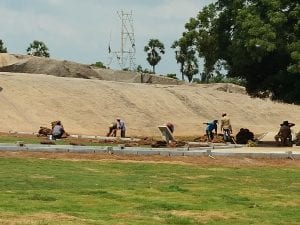 It is not just limited to local tourists, but also to tourists from other states and foreigners.
Sam Andrew, a tourist from Germany, said they were touring across India, and had planned Tamil Nadu and Puducherry this week.
"Tonight, we are leaving to Rajasthan, where we are camping. But we could not see the monuments here and were asked to see from outside the premises. It is sad that we came all the way and could take picture only from outside," he rued.
The Pallava-era monuments in the Mahabalipuram got global attention after the United Nations Educational, Scientific and Cultural Organisation (Unesco) made it a world heritage site.
Now, over 50 people have been deployed inside each monument to clean the place and relay grass inside.
Since Tuesday, the entire place, including a five star hotel where PM Narendra Modi is slated to stay for a night, has been brought under the control of the Special Protection Group (SPG). Security has been tightened and each vehicle passing Mahabalipuram streets are supposed to get registered with the police personnel posted near temporary check posts.
Bilateral meet schedule
According to the tentative schedule, Chinese president Jinping is expected to land at Chennai Airport around 1.30 pm on Friday (October 11) and would head to a five-star hotel in Guindy, in the heart of the city. After his lunch, he is expected to head to Mahabalipuram around 4 pm in the evening.
Meanwhile, Modi would reach Chennai airport in the afternoon and leave for Mahabalipuram via helicopter where he would stay at a five star hotel near the sea shore, which is about 20 kilometres from Mahabalipuram.
Both the state heads would meet at Mahabalipuram and visit Five Rathas, Krishna's butter ball, Arjuna's Penance and then Shore temple, where cultural programmes would take place. "After the programme, they would meet for an hour during the dinner," an official privy to the development said.
Later, Jinping would leave to the hotel in the city, while Modi would leave to his in Mahabalipuram. On Saturday (October 12) morning, Jinping will meet at Modi's hotel for over an hour, during which few officials may join them.
Since the schedule is tentative, Chennai city police are yet to come up with traffic diversion plans and have asked the people in the city not to believe WhatsApp messages. In a statement, the city police also said that they are making arrangements in such a way that it would not cause inconvenience to the people.
Meanwhile, DMK leader MK Stalin welcomed Chinese president Xi Jinping and said that it would bring laurel to the Tamil Nadu. He also thanked the Union government for selecting Tamil Nadu to hold the bilateral talks.