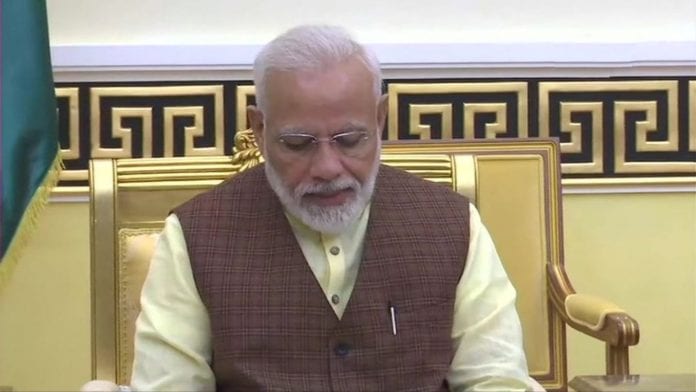 Prime Minister Narendra Modi described former finance minister Arun Jaitley as a dear friend while paying tributes to him at an event in Bahrain on Saturday (August 24).
According to reports, Modi is likely to attend Jaitley's funeral on Sunday (August 25). While addressing the Indian diaspora at the Bahrain National Stadium, Modi said, "I can't imagine that I am so far here while my friend has gone away. Some days ago, we lost our former external affairs minister Behen Sushma Ji. Today my friend Arun went away. He was a friend who stayed at every step."
Also read: Locals, leaders remember Jaitley's matchless love for Amritsar, street food
"I pay tribute to my friend Arun Jaitley from the land of Bahrain," he added. "I am a person tied down by responsibility. On one side there is Bahrain, full of enthusiasm and happiness, and on the other, my country is celebrating Janmasthami. But at that moment, within me, there is deep grief, deep pain. I am subduing that and standing in your midst," Modi said.
"From my student life, the friend with whom during our social life we walked step by step, our political life we walked together, each moment of time we were connected with each other, and faced challenges together in order to make our dreams come true. And the long journey, which I spent with my friend, Arun Jaitley, today he has left us. I cannot imagine that I am so far away, and my friend has gone away. It is a moment of dilemma, on one side I am bound by the sense of responsibility, and on the other a tale of friendship that is full of emotions," Modi said.
Earlier, in his tweets, Modi said, "My friend Arun Jaitley loved India, loved his party and loved being among people. It is upsetting and unbelievable that a person I have known since our youth is no longer in our midst. I pay my tributes to him." "BJP and Arun Jaitley Ji had an unbreakable bond. As a fiery student leader, he was at the forefront of protecting our democracy during the Emergency. He became a much-liked face of our Party, who could articulate the Party programmes and ideology to a wide spectrum of society," he tweeted.
Earlier, the mortal remains of Jaitley were kept at his Kailash Colony residence. Later, his body was taken to the BJP headquarters where leaders across the political spectrum are expected to pay their last respects. From BJP headquarters, it will be taken to the Nigambodh Ghat for the last rites.
Also read: Arun Jaitley – BJP's man for all seasons 
PM Modi launches $4.2 mn redevelopment project of iconic Hindu temple in Bahrain
Narendra Modi on Sunday launched the $4.2 million redevelopment project of the 200-year-old Lord Sri Krishna temple in the Bahraini capital, Manama.
The heritage and the 200-year-old legacy of the temple will be highlighted in the redevelopment and the new iconic complex will house the sanctum sanctorum and prayer halls. There are also facilities for traditional Hindu marriage ceremonies and other rituals, promoting Bahrain as a wedding destination and boosting tourism.
Also read: Arun Jaitley, the man who introduced Modi, Shah to Lutyens' Delhi 
Bahrain pardons 250 Indian prisoners
In a humanitarian gesture, the Bahrain government on Sunday pardoned 250 Indians serving sentences in the Gulf nation during the maiden visit of Prime Minister Narendra Modi to the oil-rich country.
The prime minister expressed his gratitude to the Bahrain leadership for the Royal pardon. According to official data, 8,189 Indians are lodged in various prisons in foreign countries, with Saudi Arabia having the highest number at 1,811 followed by the UAE at 1,392.
(With inputs from agencies)