Left organisations on Monday (February 24) organised protests in several cities of India against the visit of US President Donald Trump, who arrived in Ahmedabad earlier in the day for a nearly 36-hour visit.
Anti-Trump demonstrations were reported from at least five cities — Delhi, Kolkata, Guwahati, Hyderabad and Patna. However, no such incidents were reported from Ahmedabad, where Trump attended a series of events on Monday.
Related news: With India visit, Trump eyes diaspora votes for a second term
Advertisement
Earlier in the day, the CPI(M) said the "unilateral agenda" of Trump's visit is to further prise open the Indian economy to boost the US corporate interest and help his re-election bid. The party also called upon the Narendra Modi government not to succumb to the US agenda.
It also said the US agenda will "adversely affect" the interests of the Indian farmers, agriculture, particularly the dairy and poultry sectors. "USA allows its agribusiness to distort prices to outcompete local farmers in the developing countries with a subsidy of a whopping $867 billion," the party said.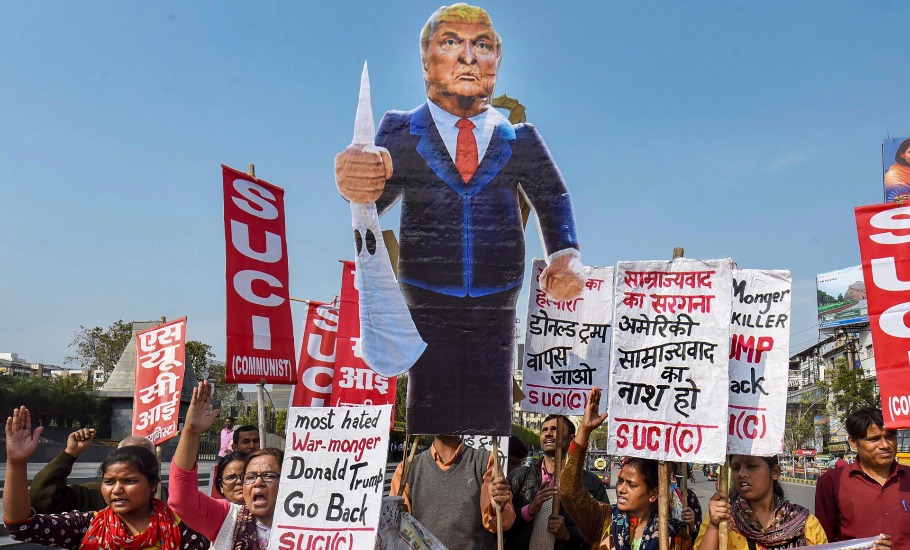 In Kolkata and Hyderabad, Leftist organisations took out rallies with placards and raised slogans against Trump. Hyderabad police said preventive arrests were made of over 10 protesters and that they would be released later.
CPI(M) secretary in Telangana Tammineni Veerabhadram said Trump's visit to India would only benefit America. He said crores of farmers and daily wage earners in India would be on the streets if America begins to increase export of items like milk, poultry, apple and almonds from India.
Related news: In images: US President Donald Trump's maiden visit to India
In Kolkata, leftist organisations held several rallies and burnt an effigy of Trump, but the police stopped the protesters before they could reach the United States Information Service (USIS) office here.
Members of Leftist trade unions and student bodies marched towards the office of the USIS from Esplanade at the heart of the city. The police stopped the rally near the Indian Museum, a few hundred metres from the USIS office.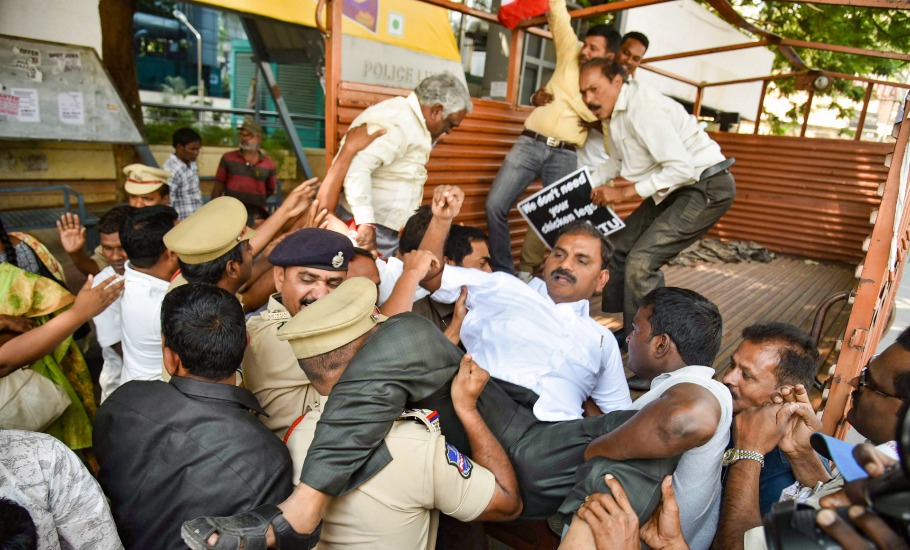 An effigy of Trump was burnt and anti-US slogans, terming the US president as an imperialist, were raised by those who participated in the rally. Leftist student unions also held a procession towards the USIS from Lenin statue at Esplanade in the afternoon, but were stopped before it reached Park Street crossing.
A Kolkata Police official said there was no untoward incident during the protest rallies. Members of Leftist party SUCI also burnt a cut out of Trump at Esplanade to protest his visit.
Similar protests were also reported from the national capital, which also witnessed violence during protests over the amended citizenship law on Monday, besides Guwahati and Patna.
(With inputs from agencies)