A photo circulating on social media wrongly suggests Justice S Muralidhar of the Delhi High Court was present when Congress president Sonia Gandhi was filing her nomination papers from Rae Bareli in 2019.
A high court bench comprising justices Muralidhar and Talwant Singh had on February 26 reprimanded the Delhi Police for failing to register FIRs against three BJP leaders — Anurag Thakur, Parvesh Verma, and Kapil Mishra — for their alleged hate speeches in connection with the communal violence in northeast Delhi.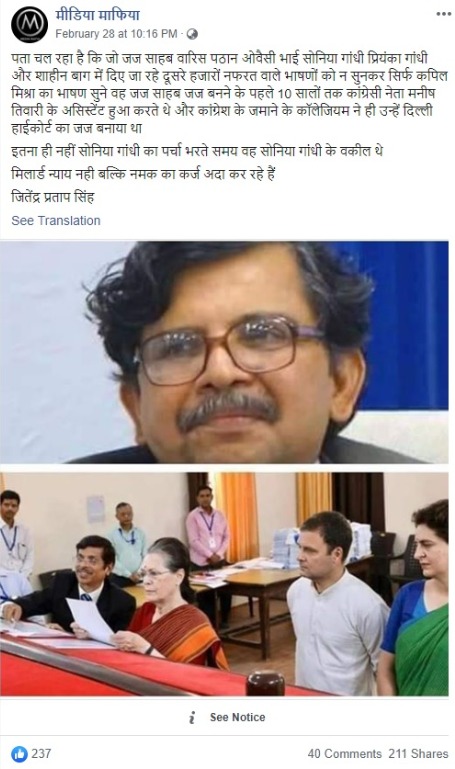 But what had grabbed the headlines more than the above mentioned incident was the transfer notification that Justice Muralidhar received the same night. He was transferred to the Punjab and Haryana High Court.
The Supreme Court Collegium had recommended his transfer on February 12, much before the communal violence, but it was timing that raised a controversy. The Congress had termed the "midnight" notification as "shameful".
Subsequently, a photo, originally tweeted by Youth Congress on April 11, 2019, resurfaced again on the internet with several users claiming the lawyer seen beside Gandhi was Justice Muralidhar. Fact-checking website AltNews pointed out to a Facebook post and a WhatsApp forward making this claim.
In the Facebook post made in Hindi by the page 'Media Mafia', it was alleged Justice Muralidhar was Sonia Gandhi's lawyer when she filed her nomination papers, and also served as an assistant to Congress leader Manish Tiwari. Another, a WhatsApp forward, was found making an identical claim.
UPA Chairperson Smt. Sonia Gandhi files her nomination in Rae Bareli.

Our love and endless support are with Sonia ji.#AbHogaNYAY #IndiaElections2019 pic.twitter.com/icqsu4uIox

— Youth Congress (@IYC) April 11, 2019
And the fact is…
This claim is false and the difference between the two is well visible. Not only that, it seems to be an intentional and desperate attempt at maligning the image of the sitting judge, and to defame him on social media.
Altnews identified the lawyer seen in the photo as KC Kaushik, and said on April 11, 2019, the day when Youth Congress tweeted the photo, Justice Muralidhar was serving as a judge in the Delhi High Court. Besides, several other media outlets have also identified him as Kaushik, the lawyer of Congress leader Rahul Gandhi.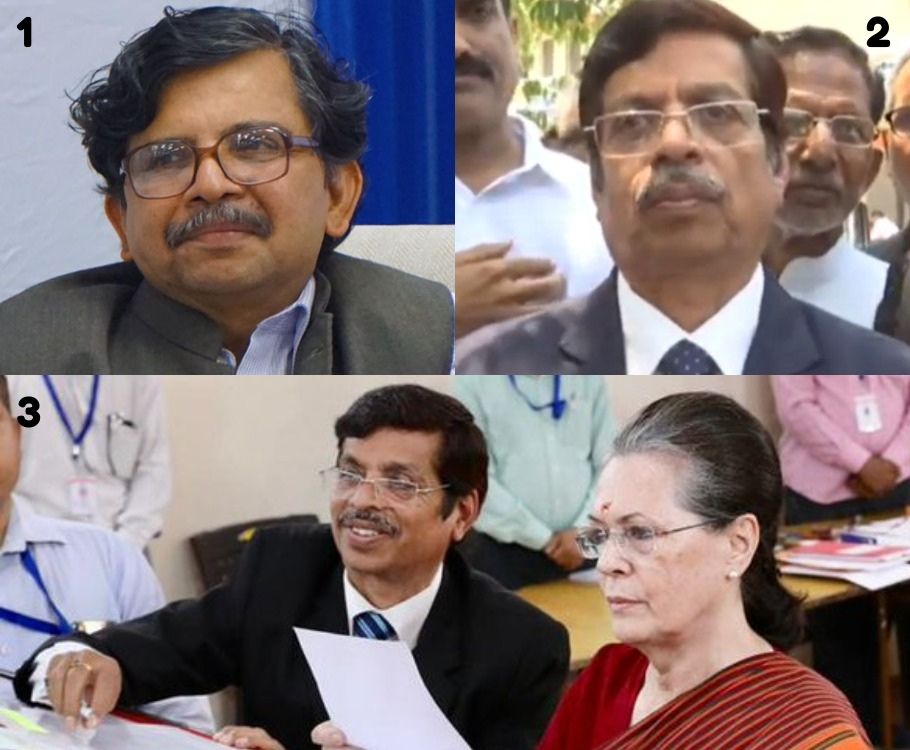 Justice Muralidhar began his law practice in Chennai in September 1984 and in 1987 shifted to the Supreme Court of India and the Delhi High Court. He was active as a lawyer for the Supreme Court Legal Services Committee and was its member for two terms.
His pro bono work included the cases for the victims of the Bhopal Gas Disaster and those displaced by the dams on the Narmada.
Before the February 26 hearing, he had convened a midnight hearing at his residence on February 25, along with Justice Anup J Bhambhani, and had directed police to ensure safe passage and emergency treatment for those injured in the violence in northeast Delhi.