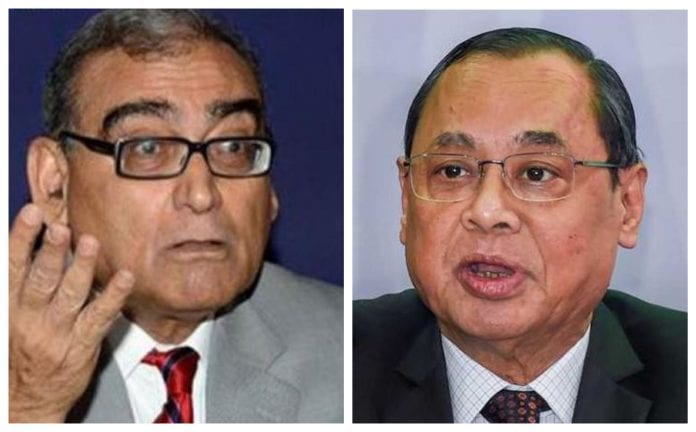 Former Supreme Court judge Markandey Katju kicked off a row on Wednesday (January 22) when he called former chief justice of India Ranjan Gogoi names in a series of social media posts while commenting on the reinstatement of the woman who had accused Gogoi of sexual harassment.
Katju's comment came after the Supreme Court on Wednesday reinstated the woman employee, who had alleged that she was dismissed after she turned down the sexual advances of Gogoi.
Calling Gogoi a "rascal" in a Facebook post, which he later shared on Twitter, Katju accused the former CJI of misusing his position by sending the relatives of the accused to jail and lambasted the judicial fraternity of keeping mum on the matter.
"A shame. How low a man was this rascal Ranjan Gogoi can be seen from the fact that he not only got the woman he sexually molested dismissed because she complained against him, but his vendetta was not thereby satisfied. He went after her whole family, and misusing his position as CJI got them sent to jail. And what about his brother/sister judges? They should have asked Gogoi to resign, but many of them protected him, instead of protecting that poor woman and her relatives. Shame on them," he posted.
"At last the woman employee who was sexually molested by CJI Gogoi and victimised along with her family has been reinstated. There was no vice which was not in Ranjan Gogoi. And yet this rascal and rogue rose to become CJI. It speaks volumes about our judiciary," he said in an earlier post on Facebook and Twitter.
Katju in another post accused the former CJI of resorting to nepotism by cancelling the transfer of his relative Justice Valmiki Mehta.
Also read: Indian Chief Justice Ranjan Gogoi cleared in sexual harassment case
"Ask Gogoi's son-in-law Tanmay Mehta what was his income before getting engaged and what it became later? How did the recommendation of transfer of Gogoi's sambandhi Justice Valmiki Mehta get cancelled? Why was Justice Nandrajog's recommendation for elevation to SC cancelled?" he said.
In April 2019, a woman employee of the Supreme Court accused Gogoi of sexual advances, and had alleged that she was sacked from her job on frivolous grounds because she denied to oblige. In her complaint, the woman alleged that she and her family were persecuted, arrested and tortured in police custody.
Gogoi who had rubbished the allegations, was given a clean chit in the matter by a three-judge-in-house committee led by the current CJI SA Bobde in May last year. The committee in its statement said it found "no substance in the allegations in the complaint."