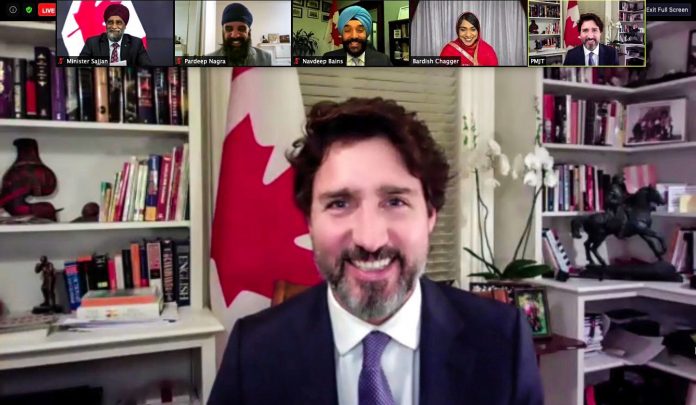 Canadian Prime Minister Justin Trudeau on Tuesday expressed "concerns" about Indian farmers' protests in New Delhi. India's External Affairs Ministry was quick to dismiss his remarks as "unwarranted" as they pertained to the country's internal affairs.
Trudeau made the comments during a Facebook video interaction on Tuesday organised by Canadian MP Bardish Chagger to mark 'Guruparb' — the birth anniversary of Guru Nanak, the founder of Sikhism. Canadian ministers Navdeep Bains and Harjit Sajjan were also a part of the interaction.
Trudeau started by saying, "I would be remiss if I didn't start also by recognising the news coming out of India about the protest by farmers. The situation is concerning and we're all very worried about family and friends."
The Canadian PM went on to add, "I know that's a reality for many of you. Let me remind you, Canada will always be there to defend the right of peaceful protest. We believe in the importance of dialogue and that's why we've reached out through multiple means directly to the Indian authorities to highlight our concerns."
Advertisement
External Affairs Ministry spokesperson Anurag Srivastava responded: "We have seen some ill-informed comments by Canadian leaders relating to farmers in India. Such comments are unwarranted, especially when pertaining to the internal affairs of a democratic country."
Srivastava added, "It is also best that diplomatic conversations are not misrepresented for political purposes."
Also read: The International Space Station: A home in the sky
Trudeau's comments were apparently aimed at Canada's influential Indian-origin diaspora. New Delhi did not appear pleased with the comments, especially at a time when both India and Canada have been taking steps to restore normalcy to bilateral ties that were hit by Trudeau's perceived softness on pro-Khalistan activists in Canada during his first term.
Trudeau said it was important to remember Guru Nanak's teachings of compassion, equality and selfless service, which are at the heart of both Sikhism and Canadian values.
Trudeau is the first world leader to comment on the protest by Indian farmers, which entered its sixth day on Tuesday.
Also read: Trudeau pauses for 20 seconds when asked about US protests
Many parties also criticised Trudeau's remarks. Shiv Sena said this was an internal issue. "Dear @JustinTrudeau, touched by your concern but India's internal issue is not fodder for another nation's politics. Pls respect the courtesies that we always extend to other nations. Request PM @narendramodi ji to resolve this impasse before other countries find it okay to opine," Sena leader Priyanka Chaturvedi said in a tweet.
Aam Aadmi Party spokesperson Raghav Chadha, too, objected to Trudeau's comments. "The Aaam Admi Party believes any interference or commentary from elected heads of other countries on India's internal matters is unsolicited and unwelcome," he tweeted.
The protesting farmers, mostly from Punjab and Haryana, are demanding repealing of the three new farm laws, which they claim are aimed at benefiting the corporates and a step towards abolishing the minimum support price (MSP).