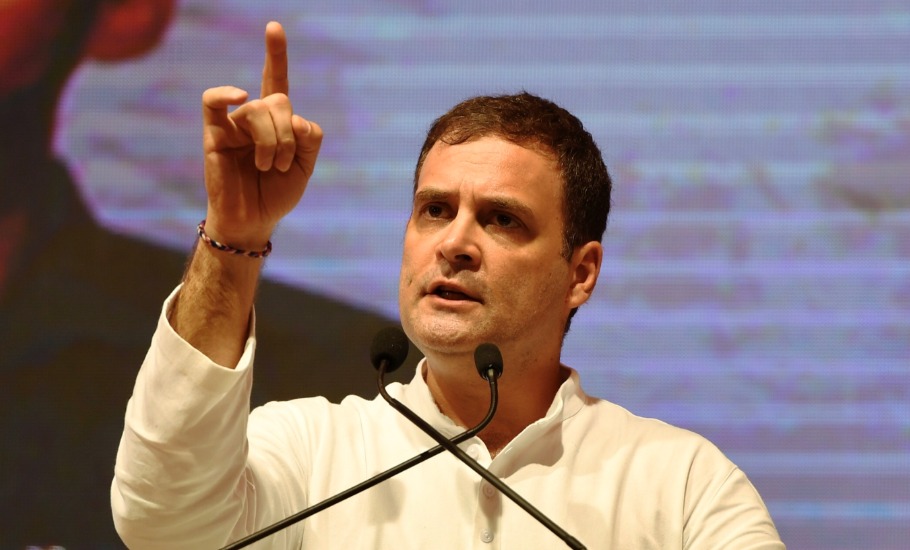 Jungle Raj of caste violence, rape at its peak in Uttar Pradesh: Rahul
Congress leader Rahul Gandhi on Monday (August 17) took a swipe at the Yogi Adityanath government over the murder of a village headman in Uttar Pradesh's Azamgarh district last week.
Forty-two-year-old Satyamev Jayate alias Pappu Ram, a Dalit man and the head of Bansgaon village was shot at least six times in broad daylight by four miscreants on Monday. The accused reportedly informed his family about the murder. A child had also died in the firing.
"Jungle Raj of caste-based violence and rape is at its peak in Uttar Pradesh. In another terrible incident, sarpanch Satyamev, dared to say 'no' despite being a Dalit and for it he was killed. My condolences to his family," Rahul tweeted.
He also tagged a news article on the incident which shed light on the chain of events that led to Satyamev's murder.
The article said the village headman, known for speaking for the rights of the Dalits, had refused to sign a document given by the upper caste people on the eve of Independence Day.
The murder had sparked protests in Tarwan area of Azamgarh. His supporters had also set vehicles and the Bongaria police outpost on fire.
Pointing to the rapes in the state, Congress general secretary Priyanka Gandhi also slammed the government for its failure to protect women.
"Bulandshahr, Hapur, Lakhimpur Kheri and now Gorakhpur. Such repeated incidents have proven that the Uttar Pradesh government has completely failed in providing security to women," she said in a Facebook post in Hindi.
On Saturday, the mutilated body of a 14-year-old girl was found by her family in a sugarcane field in Lakhimpur Kheri. The girl was raped and murdered and her family alleged that her eyes were gouged out and her tongue was slit when they found her.