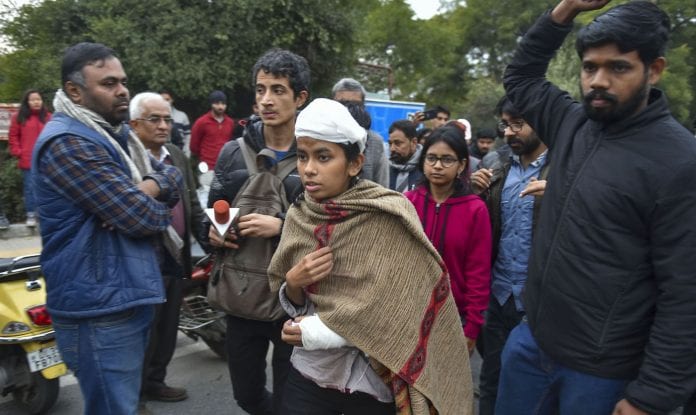 Acting on complaints from the administration, the Delhi police, on January 5, filed two First Information Report (FIR) against Jawaharlal Nehru University Students' Union (JNUSU) President Aishe Ghosh and 19 others for allegedly attacking security guards on January 4 and vandalising the server room on January 5. But the names of the accused is not found in the column meant for the accused but in the detail list.
Also read: Meet Aishe, the JNUSU president who led from the front
Ghosh was injured in the mob attack that took place on Sunday evening. After being discharged from the All India Institute of Medical Sciences (AIIMS) on Monday morning, she said some professors in the varsity's School of International Studies had threatened the students saying 'dekh lenge tumlogo ko.' She even named the three professors — Aswini Kumar Mohapatra, Pravesh Kumar, and Mazhar Asif — of singling out students and intimidating them.
Advertisement
Also read: Every iron rod used on us will be given back with debates: Aishe Ghosh
JNU witnessed one of the worst incidents of violence on Sunday (January 5) evening as 100-odd masked goons went on a rampage inside the campus, attacking students and faculty members with iron rods and other weapons.
Also read: Today my daughter, tomorrow someone else: Aishe Ghosh's dad
Former JNUSU president Kanhaiya Kumar expressed solidarity with Ghosh, saying he would meet her at 4 pm on Tuesday if she was not already arrested on "false and fabricated charges".
More Power to you Comrade Aishe ✊🏻 See you in the Public Meeting at Sabarmati T-Point at 4 pm today if this coward and liar government doesn't arrest you on false and fabricated charges by then. If they do, then we are ready to fight back. ✊🏻 #WeAreJNU https://t.co/8lALzgpuui

— Kanhaiya Kumar (@kanhaiyakumar) January 7, 2020
(With inputs from agencies)