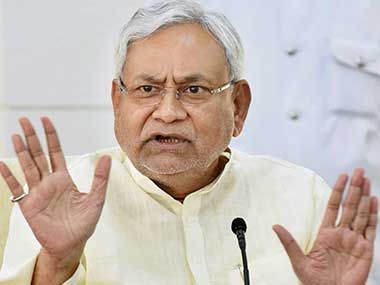 The tussle between Nitish Kumar's JD(U) and Ram Vilas Paswan's Lok Janshakti Party (LJP) over seat-sharing seems to be over as the JD (U) is all set to contest 115 seats in the Bihar Assembly polls, leaving 128 seats for the BJP and the LJP combine, indianexpress.com reported on Friday (September 18).
Ram Vilas Paswan and his son Chiraag have been aggressive in demanding their share of seats which has annoyed the JD (U) and worried the BJP.
JD(U) has been firm on contesting 115 seats. "In 2010, there was just JD (U) and BJP, hence we did not have many issues over seat-sharing. We were part of the Grand Alliance in 2015 Assembly polls and contested 101 seats. Now that we are again part of the NDA and the senior partner, we are pressing for 115 seats. Let the BJP accommodate LJP and we will take care of Jitan Ram Manjhi's Hindustani Awam Morcha (Secular) from our share," said a JD(U) source told indianexpress.com.
A BJP leader admitted that seat-sharing is indeed an issue. "We want some of their sitting seats and JD(U) wants some of ours. A lot also depends on the number of seats RJD will contest. The seat-sharing could be announced sometime in October," he said.
In the assembly, JD (U) has 71 MLAs and BJP has 53. In the 2010 Assembly elections, the JD(U) and BJP had contested on 141 and 102 seats, respectively.
The top leaderships of BJP and JD(U) are in Delhi to decide the seat-sharing formula. BJP leaders are tight-lipped about disclosing any details. However, it is known that the party wants to contest equal number of seats. It had shown a large heart during the Lok Sabha polls by denying tickets to five sitting MPs and gave JD (U) equal seats to contest. Now BJP expects the JD(U) to reciprocate.
Related news: Paswan-led LJP wants BJP to contest more seats than JD-U in Bihar polls
The Assembly polls in Bihar are likely to be held as per schedule in October-November despite opposition demanding a postponement in view of the coronavirus situation in the state and place the state under President's rule. The Election Commission too stated last month that the polls will be held as per schedule.
Paswan's LJP, which supports the Nitish Kumar government, had also favoured postponing the polls.