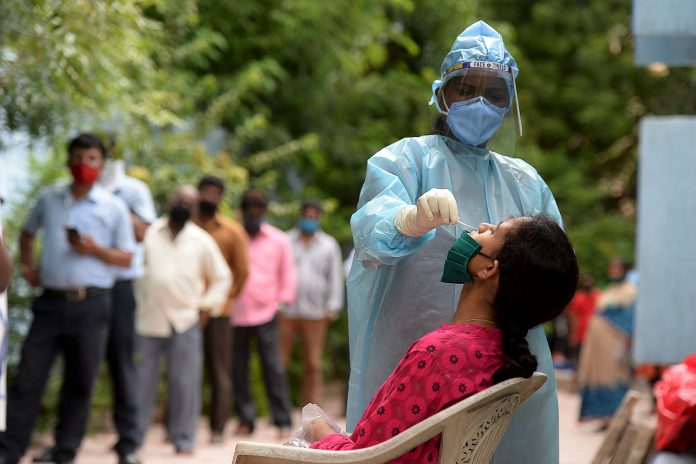 As the number of coronavirus cases keep rising in India, insurance companies have seen a surge in claims being made for the disease, with some industry officials suggesting that this could have contributed to the incurred ratio of general insurance firms crossing 100%.
Health insurance companies have received about 3.18 lakh claims for a cumulative amount of Rs 4,880 crore till September 29, industry officials said, reported Financial Express. The companies said they are receiving claims from not just big cities but also from semi-urban and rural areas.
Related News: About 8% of super-spreaders responsible for two-thirds of Covid cases in India, says study

Over 1.97 lakh claims totalling Rs 1,964 crore were settled till September 29, with 1.35 lakh claims for Rs 1,710 crore coming from Maharashtra alone. There have been 32,830 claims from Tamil Nadu, another state highly affected by the pandemic, and 27,913 claims from Gujarat.
"We have seen claims now coming from across the country," the product head of a private insurance company told Financial Express. "A few weeks ago, we were getting claims only from metro cities. I think incurred claims ratio in the health segment for the general insurance companies will be more than 100% in the second quarter of this fiscal."
According to a study by ICICI Securities, the monthly the total amount claimed for Covid in the financial year ending March 2021 could be about Rs 10,500 crore.
Related News: 'Considerable' population still susceptible to COVID: Sero survey

Health insurance companies had launched exclusive cover for Covid on July 10 after the insurance regulator IRDAI issued guidelines for 'Corona Kavach' policies on June 26. The policies officer cover ranging from Rs 50,000 to Rs 5 lakh are are for short term.  
India has seen a surge in Covid cases in August and September, with the count standing at over 63 lakh as on Thursday (October 1) morning. There are over 9 lakh active cases and about 99,000 deaths.