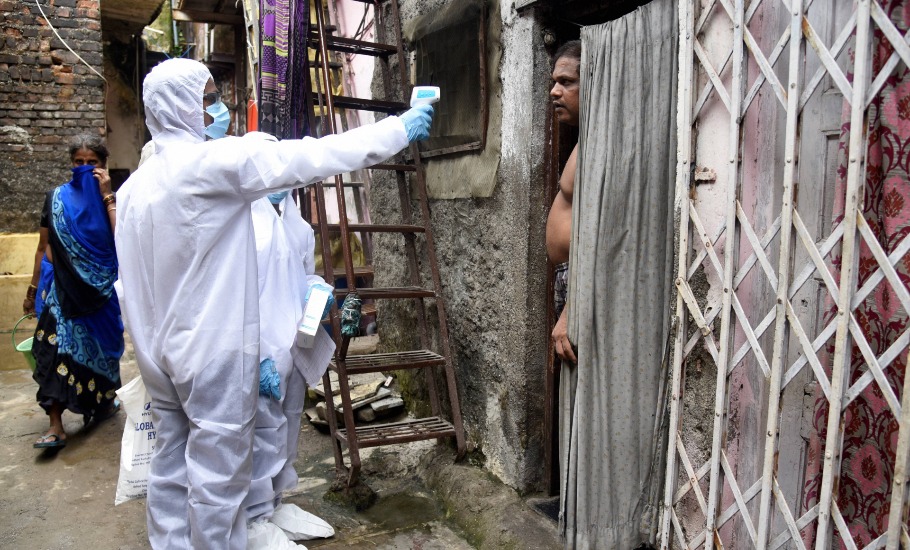 Record single day surge; India's COVID tally climbs to 7,67,296
India saw a record single-day surge of 24,879 coronavirus infections which pushed the nationwide COVID-19 caseload to 7,67,296 on Thursday (July 9), while the death toll climbed to 21,129 with 487 new fatalities, according to the Union Health Ministry data.
The number of recoveries stands at 4,76,377, while there are 2,69,789 active cases of coronavirus infection presently in the country. "Around 62.08 per cent of patients have recovered so far," an official said.
Of the 487 deaths, 198 are from Maharashtra, 64 from Tamil Nadu, 54 from Karnataka, 48 from Delhi, 23 from West Bengal, 18 from Uttar Pradesh.
On Wednesday, Karnataka, Kerala, West Bengal and Gujarat witnessed the biggest single day in number of COVID cases.
Karnataka reported the biggest spike of 2,062 new COVID-19 cases and a record 54 fatalities, taking the total number of infections to 28,877 and the death toll to 470.
In the highest-ever single-day jump in Kerala, as many as 301 people tested positive for coronavirus on Wednesday, taking the infection tally to 6,195, state Health Minister KK Shailaja said.
West Bengal too witnessed the highest single-day spike in cases with 986 fresh infections, taking the states virus count to 24,823. Death toll in the state rose to 827 after 23 new fatalities were reported yesterday. Lockdown begins in containment zones in the state as announced by the state's Chief Minister Mamata Banerjee. The lockdown will be imposed for seven days from 5 pm on Thursday to check the surge in the coronavirus cases.
Maharshtra remained at the top as the state with most number of COVID cases – 2,23,724 with the addition of 6,603 cases on Wednesday, while Tamil Nadu came second with 3,756 COVID-19 cases and 64 fatalities, taking the tally to 1.22 lakh.