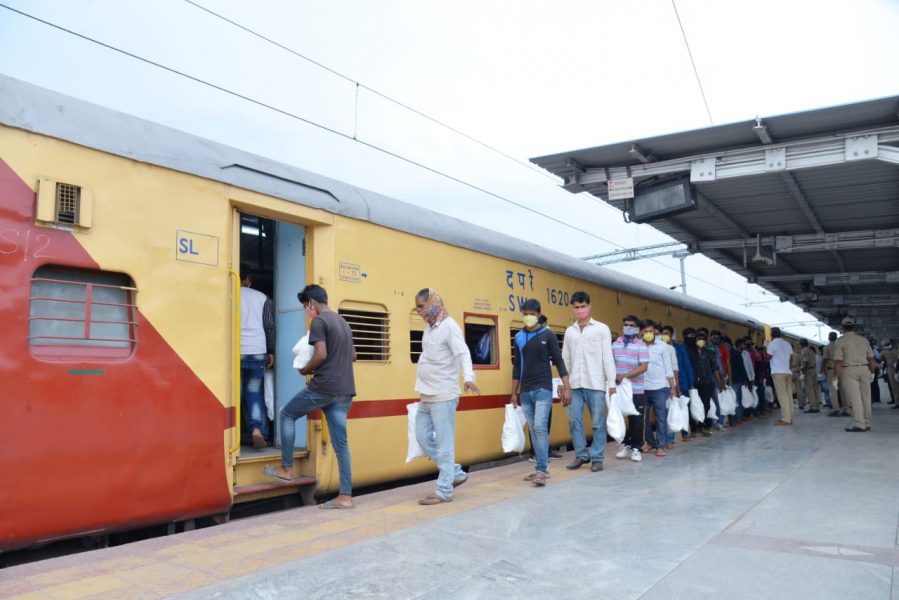 Indian Railways to run 200 non-AC trains from June 1, apart from Shramik
Indian Railways will start services of 200 non-air conditioned (AC), time tabled trains starting from June 1, 2020, apart from the regular Shramik special trains operating across the network. The routes and schedules of these trains will be notified soon by the Ministry of Railways.
A Railway Ministry spokesperson told The Federal that in view of the COVID-19 lockdown, the tickets for these non-AC passenger trains will not be sold at any railway station and passengers should not come to the railway station to buy train tickets. The tickets for these trains will only be sold online and the IRCTC e-ticket booking will begin soon. Once booking starts, passengers can visit the IRCTC next-generation e-ticketing website (irctc.co.in) or log in to the IRCTC Rail Connect mobile app.
इन श्रमिक स्पेशल ट्रेनों के अतिरिक्त भारतीय रेल 1 जून से प्रतिदिन 200 अतिरिक्त टाइम टेबल ट्रेनें चलाने जा रहा है जो कि गैर वातानुकूलित द्वितीय श्रेणी की ट्रेन होंगी एवं इन ट्रेनों की बुकिंग ऑनलाइन ही उपलब्ध होगी। ट्रेनों की सूचना शीघ्र ही उपलब्ध कराई जाएगी।#IndiaFightCorona

— Ministry of Railways (@RailMinIndia) May 19, 2020
These special passenger trains will be in addition to the migrant-special Shramik trains which have been operated by several railway zones to transport migrant workers, labourers from one city to another.
In a period of 19 days, Indian Railways transported more than 21.5 lack migrants to their home states through the Shramik Special trains and operate more than 1600 such trains from various railway zones. Social distancing norms are being followed at at railway stations, manned by the Railway Protection Force (RPF) officials. Thermal screening of all passengers is being conducted at railway stations. Inside trains, they are provided with food (wrapped in packets) and water bottles.
The Home Ministry had granted permission for the movement of stranded citizens including migrants labourers, workers, students, and tourists to return to their native towns.
RELATED NEWS: Railways develops robot to monitor COVID-19 patients, run errands for docs
The step to resume non-AC train services comes a few days after 15 pairs of AC special passenger train services began on May 12. According to Indian Railways, a limited quota of the waitlisted tickets will be allowed in the passenger trains which are currently running and others that will start plying in the next few days, as per protocol.