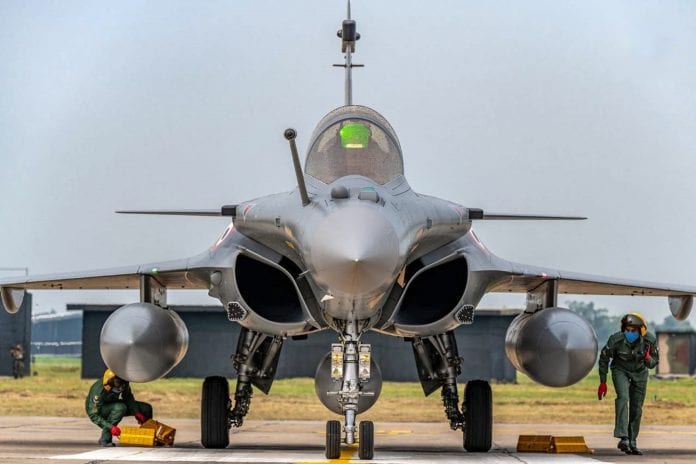 France is likely to deliver the second batch of Rafale fighter jets in the next few weeks, bolstering India's air capability as it deals with the tension with China along the line of actual control (LAC) near Ladakh.   
The first batch of five jets were delivered on July 29 and they were formally inducted into the Indian Air Force on September 10. 
Related News: With Rafale in its armory, IAF chief talks of 'capability to strike first'

The second batch is likely to have three to four jets, officials said. They said a team of the IAF, led by assistant chief of air staff (projects), is in France to review the progress of the  project. India has signed a Rs 58,000-crore deal with France in September 2016 for delivery of 36 Rafale jets. 
The remaining are likely to be delivered in batches of three to four every couple of months, with the last delivery expected to be done by the end of next year, official said.
The twin-engine jets are customised as per India's requirements and have helmet-mounted sight, radar warning receivers, infrared search and track systems, jammers, and cold engine start capability to operate from high-altitude bases, the Hindustan Times reported.   
The first batch of Rafales, based at the Ambala Air Force station, are being used in the Ladakh theatre as India increases presence in forward posts amid China's refusal to disengage. Multiple rounds of talks at both diplomatic and military levels have not eased the tension.    
Related News: Rafale makers did not deliver on offset clause, says CAG

Last week, Air Chief Marshal R K S  Bhadauria had said that the IAF is considering buying two more squadrons of the Rafale jets. The responses to RFI (request for information) have been received and they are being discussed, he said, adding nothing has been finalised.  
He said that the IAF is now looking at the indigenous light combat aircraft (LCA) Tejas Mark 1A developed by Hindustan Aeronautics. The IAF has signed a Rs 39,000 crore deal for 83 Tejas.