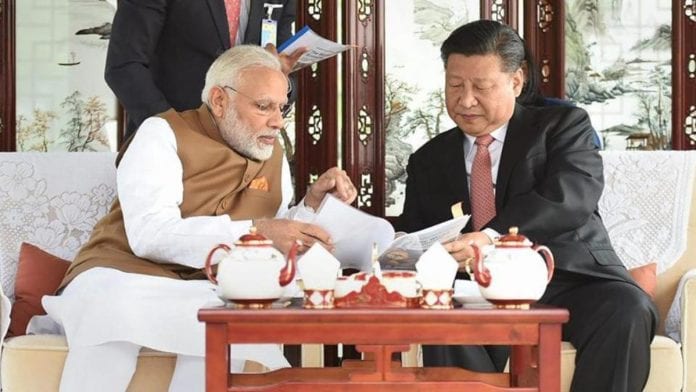 Chinese president Xi Jinping appears to have made a strong pitch for India joining OBOR or One Belt One Road initiative during his two-day informal summit with Prime Minister Narendra Modi.
While the term OBOR does not figure anywhere in the briefings by Indian or Chinese press statements, the issue does figure prominently in Chinese official agency Xinhua in a roundabout manner.
The issue referred as "fifth" point in the statement says, "they (India and China) need to support the establishment of friendly ties between China's Fujian Province and India's State of Tamil Nadu, as well as those between cities of Quanzhou and Chennai, to write a new chapter of the Maritime Silk Road".
Advertisement
Also read: Modi, Xi 'connect' India, China beyond routine trade ties 
Maritime Silk Road refers to the ancient sea route used by South Asian trading communities. This included Chinese and Tamil traders who took the route to conduct their business. In the current context Maritime Silk Road is part of China's Belt and Road Initiative.
Quanzhou, is a port city in Fujian province and perhaps the only city that has evidences of ancient trade links between coastal China and Southern India. Many sculptures and carvings were excavated in Quanzhou that threw up proof that Tamil sea traders had made the city an important port-of-call nearly a thousand years ago.
The statement quoting Xi says that next year the two countries should celebrate "70th anniversary of their diplomatic relations and the activities marking the China-India year of cultural and people-to-people exchanges". While the Indian side referred to people-to-people contact there was no elaboration on the Quanzhou-Chennai Maritime Silk Route.
Also read: Belt and Road initiative not exclusive club, says Chinese prez Xi
China has been pushing for OBOR, a pet project of its president Xi Jinping. India has been resisting joining OBOR as it believed that it was more than a commercial venture and was in fact a strategic initiative of China. In what could be considered its strongest stance on the BRI, India marked its protest by boycotting the Belt and Road Forum that China hosted in May 2017 and also chose to ignore persistent invitations by the Chinese.
India in the past has officially questioned the initiative's transparency and processes, and New Delhi has always opposed the China-Pakistan Economic Corridor (CPEC) as the corridor runs to Pak Occupied Kashmir or POK violating India's territorial sovereignty.
India had in fact been countering China' BRI initiative by offering soft loans for several development and capacity building projects across continents. The Lines of Credit (LOCs) offered by the Indian government on concessional terms is for socio-economic developments such as power, transport, connectivity, agriculture and irrigation, manufacturing industries, water and sanitation, healthcare.
Also read: Modi, Imran compete to sup with Trump, dine with Trump
Has there been a change of heart as far as India is concerned? The Chinese have been exerting pressure on India for quite some time to join the initiative, but India has been holding on as it does not serve its strategic purposes. But the ancient Tamil-China trading connect seemed to have given another opportunity to Xi Jinping to push his point of view. Indian response would largely depend upon what it gets in return. All that the Indian spokesperson has said while replying to a question from a journalist that the details of Tamil-China engagement would be released later.