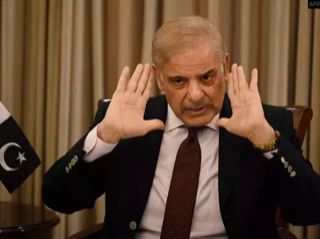 Hours after former Pakistan premier and Tehreek-e-Insaf (PTI) chief Imran Khan was sent to an eight-day remand by a sessions court, his supporters attacked the Lahore residence of the country's Prime Minister Shehbaz Sharif in retaliation.
Sharif has called the attack "an act of terrorism" while stating that the offenders will be given "exemplary punishment."
Also read: Imran Khan sent to 8-day physical remand by Pakistani anti-corruption court
According to police, over 500 miscreants from PTI party reached the Model Town Lahore residence of the prime minister in the early hours of Wednesday and set ablaze vehicles parked over there.
"They also threw petrol bombs inside the premieres house," a senior police officer of Punjab police told PTI on Wednesday.
The police official said only the guards were present at the prime ministers house when the miscreants attacked. They also set on fire a police post there.
"As a heavy contingent of police reached there, the PTI protesters left," he said.
Before reaching the prime minister's residence, the mob attacked the ruling PML-N Secretariat in Model Town, torching the vehicles parked over there. They also put the barriers there on fire.
According to police, the protesters set on fire 14 government installations/buildings and 21 police vehicles in Punjab during the last two days — Tuesday and Wednesday.
On Tuesday, the protesters had set ablaze at the Corps Commander House in Lahore after ransacking it.
Exemplary punishment: Sharif
Later addressing the nation, Prime Minister Sharif said the attackers will be punished while accusing Khan and his party of inciting the violent protests.
"Attack on public property is an act of terrorism and enmity towards the country," he said adding "they will be given exemplary punishment."
Also read: Pakistani court indicts Imran Khan in Toshakhana corruption case
He said "the protection of the State and ideology of Pakistan is more precious to us than our lives and we will not allow anyone to conspire against it."
Referring to the violence clashes in the country, he said, "such a scene had never been witnessed in 75 years. Many lives were endangered. Even ambulances were set on fire. Swat motorway was set on fire. Like the enemy, installations of armed forces were attacked."
Situation remains grim
The situation in Lahore and several other cities of Punjab remained tense on Wednesday in the wake of the arrest of PTI chief and former premier Imran Khan by the National Accountability Bureau (NAB) in a land transfer corruption case.
Also read: Imran Khan faces 120 cases throughout Pakistan on various charges
Violent clashes between Khan's supporters and security forces have left at least seven people dead and nearly 300 injured across Pakistan as the army was deployed in the country's capital Islamabad, as well as in Punjab, Khyber Pakhtunkhwa and Balochistan provinces on Wednesday to maintain law and order.
(With inputs from agencies)