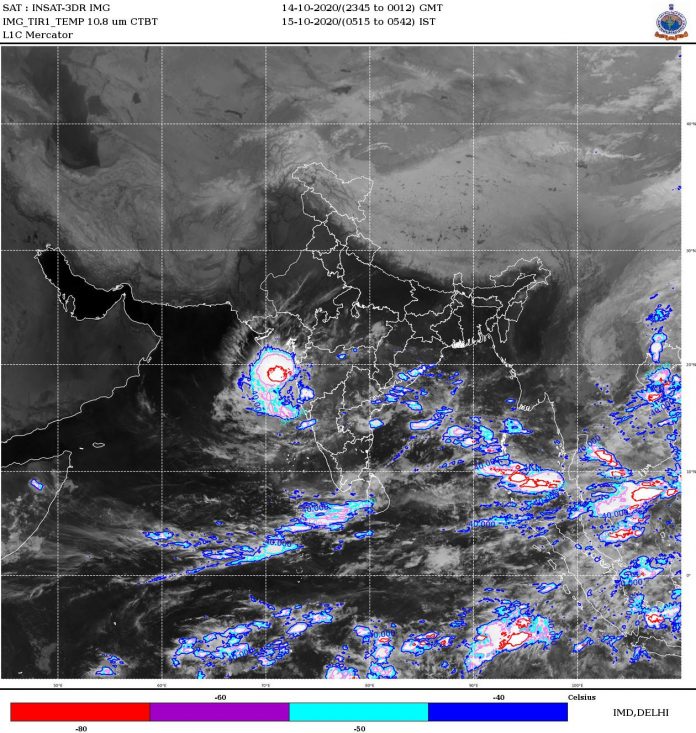 The India Meteorological Department (IMD) has issued 'heavy to extremely heavy rainfall' warning over Konkan, Goa, parts of coastal Karnataka, central Maharashtra and south Gujarat for Thursday.
The depression over north interior Karnataka and adjoining areas of Maharashtra has moved west-north-westwards and has weakened into a well-marked low-pressure area over south-central Maharashtra, the IMD said.
Advertisement
Nowcast: As per latest satellite and radar observations, Mumbai city and suburbs are very likely to experience thunderstorms accompanied with lightning and intense spell of rainfall (2-3 cm/hr) during next 3 -4 hrs. Possibility of occasional gusty winds reaching 30-40kmph.

— India Met. Dept. (@Indiametdept) October 15, 2020
The forecast, which estimates more than 20 cm rain in 24 hours, states that sea conditions will be rough to very rough over east-central and adjoining north-east Arabian Sea and along and off Maharashtra and Gujarat coasts between Friday and Sunday (October 16 to 18).
The weather department said the depression is likely to intensify following its merger with the Arabian Sea. It is likely to move west-north-westwards and emerge into east-central Arabian Sea off Maharashtra coast on Friday (October 16) morning.
The depression is likely to intensify in the next 24 hours over east-central and adjoining north-east Arabian Sea off Maharashtra towards south Gujarat coasts. Gradually, it will move west-north-westwards and intensify further, the daily weather bulletin of the IMD said.
IMD has advised fishermen not to venture into the sea from Friday onwards for the next three days.
Also read: IMD warns of heavy rains in coastal Karnataka, other areas in south India
The country has recorded 6% of excess rainfall between October 1 and October 14. Officially, the monsoon season comes to an end on September 30 and monsoon withdraws completely from the country by October 15, but it hasn't withdrawn yet.
The withdrawal of monsoon is stalled because of intense rainfall associated with a depression that has formed over the Bay of Bengal.
The east coast has not been spared either. Coastal Andhra Pradesh, Yaman, Rayalaseema, north interior Karnataka, Odisha and Chhattisgarh have recorded 60% excess rainfall in October.