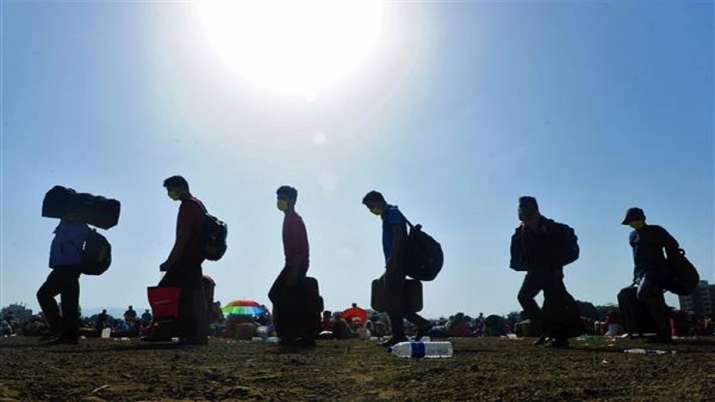 Heatwave in some parts, rainfall in others: Here's how India's weather will be this week
Heatwave is likely to continue in central and north-west parts of the country, even though the anti-cyclonic situation has weakened and Western Disturbances have started to appear over northern India.
Parts of Rajasthan, south-west Uttar Pradesh, Gujarat, Madhya Pradesh and the Vidarbha region of Maharashtra may experience maximum temperatures up to 45°C with severe heatwave conditions in some areas.
Temperature may hover around 41 to 43°C in parts of Haryana, Punjab, Delhi, Bihar, Jharkhand, Odisha, Chhattisgarh, Telangana and Andhra Pradesh. Heatwave conditions would prevail in these states as well with temperature anomaly expected to be +4.5C° above normal, according to Indian Meteorological Department (IMD).
The weather department stated that the heatwave condition is likely to abate thereafter due to approaching Western Disturbance, wind conditions and cloud cover over some parts of these states.
The IMD said that there would be no significant change in maximum temperatures over Northwest, Central, East India, south Maharashtra and Gujarat during the next 24 hours, with an expected fall of two to four degrees during the subsequent three days.
Also read: Stay on guard! Heatwave likely to prevail in these states
"Similarly, no significant change in maximum temperatures is likely over the rest of the country," said IMD.
"Apart from this, fairly widespread/widespread rainfall accompanied by thunderstorms/lightning/gusty winds is likely over Arunachal Pradesh, Assam, Meghalaya, Nagaland, Manipur, Mizoram, Tripura, and Sub-Himalayan West Bengal & Sikkim during next 5 days," said IMD.
Parts of Rajasthan, Punjab, Haryana and western UP experienced the first dust storms of this summer on April 13 and 14.
Surprisingly, Delhi didn't face intense dust storms, but only mild storms.
The spread of rainfall was less in this spell, but heatwave conditions have abated in the last three days as temperatures fall in north-west India.
Also read: Heavy rainfall in northeast, parts of TN, Kerala to bring relief from heatwave
In a span of last one month, it is the first time that Western disturbance impacted the Himalayas from April 12 to 15.
India's North-East continues to experience heavy pre-monsoon rains. The continuous flow of moisture-feeding Southerly winds from the Bay of Bengal have been responsible for a prolonged spell of rainfall in the region.
Cherrapunji recorded a total of 1,716.1 mm in the first 16 days of April itself.
Western Disturbances are expected to impact the Himalayas and the plains of north India this week. As the weather system is supposed to be weak, they might not be very effective.
Jammu and Kashmir and Ladakh, Himachal Pradesh, Uttarakhand will experience scattered rainfall and thundershowers, on and off, this week.
Isolated places in Rajasthan, Punjab, and Haryana may see dust storm activities on April 17, 19 and 21.
Parts of Maharashtra and Madhya Pradesh may experience light to moderate pre-monsoon rains on April 21-23.
The prolonged spell of pre-monsoon rains will continue in North-East India this week; the intensity of rains is expected to increase, specifically in stations of Meghalaya. As the incessant rains persist, the North East might observe the wettest April in recent decades.
The low-pressure area in the Arabian Sea is not showing any significant movement.
Southern India will witness strong winds and lightning activity along with below normal day temperatures.
The trend of the last two weeks is expected to continue in south India this week. The region will continue to experience above normal rainfall activities, specifically in parts of Kerala, south-west Tamil Nadu and Karnataka.
The clouds will develop daily in the late afternoon to evening hours, leading to moderate to heavy intensity rainfall and thunderstorms in several areas. It will also help in restricting the rise in temperature over Kerala, Karnataka and Tamil Nadu.
Also read: Hottest March ever: Why north-west India is reeling under a heatwave
Similar weather activities are also expected in the interiors of Telangana, Andhra Pradesh, north Karnataka and Goa, but the precipitation will be less comparatively. The region will experience below normal maximum temperatures next week.
The Kerala-Mahe region may experience scattered to fairly widespread rainfall accompanied by thunderstorm, lightning or gusty winds during the next five days, and Tamil Nadu-Puducherry-Karaikal region, Karnataka, Andhra Pradesh, and Telangana may witness isolated to scattered rainfall accompanied by thunderstorm, lightning or gusty winds during next five days due to the influence of strong southwesterly winds from the Bay of Bengal to northeastern states at lower tropospheric levels, according to IMD.