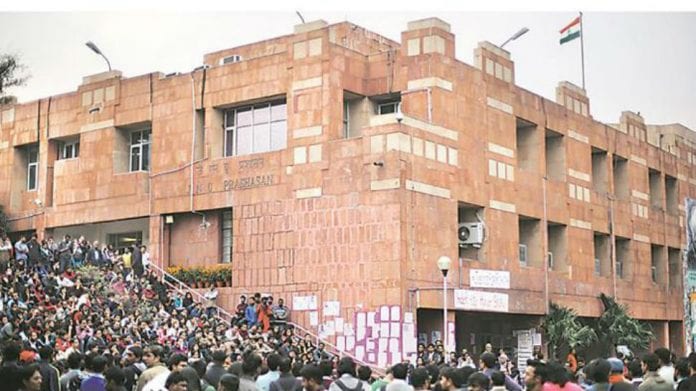 The Delhi High Court on Tuesday permitted the Jawaharlal Nehru University (JNU) election committee to declare the results of the students union polls held on September 6. Justice Sanjeev Sachdeva also allowed the JNU administration to notify the poll results in accordance with Lyngdoh committee recommendations.
The court had restrained the varsity from notifying the election results till September 17. It passed the order on Tuesday while disposing two petitions by two students, who had alleged that their nomination for polls were illegally rejected for election as councillor of JNUSU.
According to the results declared before the last round of counting on September 9, the united-Left panel seemed set to sweep all four central panel posts of the Jawaharlal Nehru University Students' Union election, which was held on September 8 with Student Federation of India (SFI) candidate Aishe Ghosh gaining a strong lead over the others.
The Left panel consisting All India Students' Association (AISA), Students' Federation of India (SFI), Democratic Students' Federation (DSF) and All India Students' Federation (AISF) had contested the election in an alliance on all seats.
Also read: In fresh stand-off with V-C, JNU teachers have students by their side
Polling for the keenly-contested elections saw a turnout of 67.9%, believed to be the highest in seven years, said JNU election commission chairman Shashank Patel.
After counting 5,050 of the 5,762 votes Aishe Ghosh of SFI secured 2,069 votes while Jitendra Suna from Birsa Ambedkar Phule Students' Association (BAPSA) was in the second spot with 985 votes, with ABVP's Manish Jangid in the third place with 981 votes.
For the post of vice-president, united-Left panel's Saket Moon of Democratic Students' Federation (DSF) was leading with 3,028 votes with Shruti Agnihotri from ABVP in second place with 1,156 votes. For the post of general secretary, Satish Chandra, from the united Left, was leading with 2,228 votes with Sabareesh P.A. from ABVP in second place with 1,182 votes.
For joint secretary, united-Left panel's Md. Danish was leading with 2938 votes with Sumanta Kumar Sahu from ABVP taking second place with 1,310 votes. Last year too, the united-Left panel had won all four central posts.