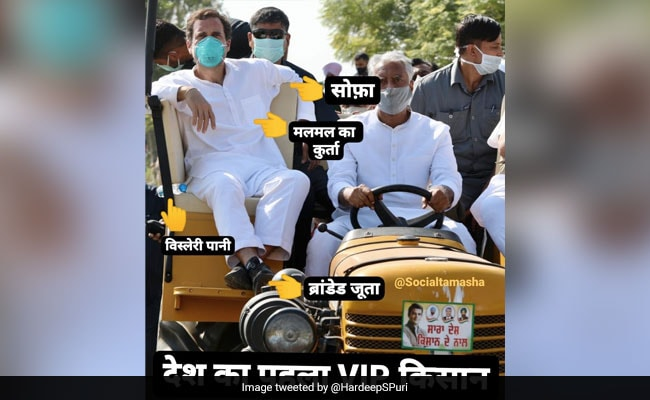 The BJP hit back at the Congress, which is protesting against three new farm laws, as Union Minister Hardeep Singh Puri on Monday shared a pic of Rahul Gandhi sitting on a 'cushioned' seat on a tractor during a rally in Punjab.
Puri, who is the Union Minister of State for Civil Aviation, tweeted: "The 'protest' launched by the Congress is a political protest by those whose vested interests are hurt by the farm bills. Cushioned sofas on tractors is not a protest… it is 'protest tourism' to misguide our farmers, who are educated and intelligent enough to see through this façade."
Congress started a three-day tractor rally in Punjab's Moga on Sunday in protest against agriculture-related laws that farmers fear will deprive them of a minimum support price and leave them at the mercy of private companies.
Burning of a tractor is violence. 

Not allowing BJP karyakartas & leaders in Chandigarh & Punjab to step out of their homes is hooliganism. 

Disrupting traffic & trains is hooliganism. 

No. 
The farmers of Punjab are not indulging in hooliganism. 
Congress is.

— Hardeep Singh Puri (@HardeepSPuri) October 5, 2020
Images from the rally showed Gandhi sitting on what seem to be cushions, on one side of the tractor driver, while Punjab Chief Minister Amarinder Singh sat on the other side.
Meanwhile, Puri shared another tweet taking a dig at Congress over the burning of a tractor near India Gate in Delhi last week during a protest, which was organized by the Punjab Youth Congress.
"When informed criticism hits the target, attempts are made to shoot the messenger. Anybody who knows our farmers will know that farmers who toil on their land will never burn their tractor. The tractor was not burnt by farmers, it was burnt by Congressi goons," Puri tweeted.
Also read: If farmers are happy with new laws, why are they protesting? Rahul at Moga rally
Farmers across the country – particularly in Punjab and Haryana – are expressing their dissatisfaction with the new laws. The government says the three new laws are meant to benefit farmers as they now have a choice to sell their produce at markets of their choice.
Prime Minister Narendra Modi has time and again assured the farmers that neither the MSP nor government procurement will be stopped.